Levitation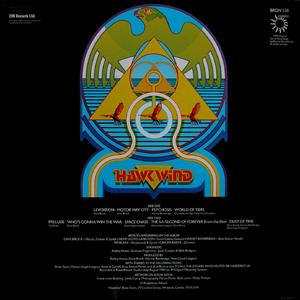 Tracklist
A1
Levitation
5:48
Notes:

Written-By - Dave Brock

A2
Motor Way City
6:45
Notes:

Written-By - Dave Brock

A3
Psychosis
2:24
Notes:

Written-By - Harvey Bainbridge

A4
World Of Tiers
3:14
Notes:

Written-By - Harvey Bainbridge
Written-By - Huw Lloyd-Langton

B1
Prelude
1:40
Notes:

Written-By - Tim Blake

B2
Who's Gonna Win The War
4:43
Notes:

Written-By - Dave Brock

B3
Space Chase
3:08
Notes:

Written-By - Huw Lloyd-Langton

B4
The 5th Second Of Forever (From The Film)
3:27
Notes:

Written-By - Dave Brock
Written-By - Huw Lloyd-Langton

B5
Dust Of Time
6:18
Notes:

Written-By - Dave Brock
Written-By - Harvey Bainbridge
Written-By - Huw Lloyd-Langton
Credits
Bass, Vocals - Harvey Bainbridge
Drums - Ginger Baker
Engineer - Ashley Howe
Engineer [Assistant] - Jools Cooper
Engineer [Assistant] - Nick Rodgers
Guitar [Lead, Normal] - Huw Lloyd-Langton
Keyboards, Synthesizer - Tim Blake
Producer - Ashley Howe
Producer - Dave Brock
Producer - Harvey Bainbridge
Producer - Huw Lloyd-Langton
Vocals, Guitar, Synthesizer - Dave Brock
Notes
Recorded at Roundhouse Studios July/Aug 1980 on 3M Digital Mastering System.
Initial copies were pressed on blue vinyl.
Strawberry Bricks Entry:
In late 1979, Dave Brock, Simon King and Harvey Bainbridge were eager to resurrect the old Hawkwind banner and hit the road. To complete the lineup, they reached out to two old friends from the very beginning of the band, nearly a decade before: ex-Gong member Tim Blake, a friend from the Ladbroke Grove scene, and guitarist Huw Lloyd-Langton, who had last played with Hawkwind on their debut album. Signing to Bronze Records (courtesy of their former manager Doug Smith), Live Seventy Nine was released out of the blue in June 1980, yet to great acclaim: It reached No. 15 on the UK charts. A re-energized mix of old classics from the new lineup, it was spearheaded by the two-guitar assault of Brock and Langton. Hawkwind headed to the studio in the late summer of 1980, but without drummer King; the precision of digital technology had ended his long-standing reign with the band. His replacement was, incredulously enough, "the" Ginger Baker from Cream; evidently, Langton's wife Marion had the connections that helped bring him into the Hawkwind fold. The ensuing album, Levitation, released in November, was yet another chapter in the Hawkwind saga, and a veritable start to their second decade. Taking a nod to the current new wave of British heavy metal revival, "Motor Way City" and "World of Tiers" reveal a powerful band with one foot firmly rooted in heavy rock. It's a direction that they'd pursue for years to come. Langton's fluid lead guitar graces the anthems "Who's Gonna Win the War" and "Dust of Time," while Blake's synths feature on "Psychosis" and "Space Chase." The album reached No. 21 on the UK charts. What followed was the now-to-be-expected ups and downs of a Hawkwind tour, again resulting in the departure of band members. Blake got the sack after spending too much time on the phone with his then-girlfriend; while Baker, who never took to the live staging of a Hawkwind show, was fired after attempting mutiny with replacement keyboardist Keith Hale. Story goes that "the world's worst bass player" (Bainbridge) was the one to fire "the world's best drummer." Undaunted, the core of Brock, Lloyd-Langton and Bainbridge would remain together, with yet another lineup of Hawkwind forthcoming.