Liege & Lief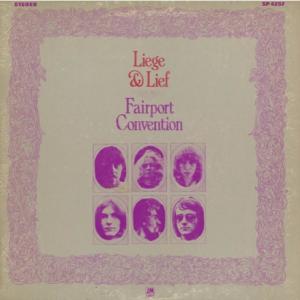 Artist:
Fairport Convention
Tracklist
A1
Come All Ye
4:55
A2
Reynardine
4:33
A3
Matty Groves
8:08
A4
Farewell, Farewell
2:38
B1
The Deserter
4:10
B2
Medley: The Lark In The Morning / Rakish Paddy / Foxhunter's Jigs / Toss The Feathers
4:00
B3
Tam Lin
7:20
B4
Crazy Man Michael
4:35
Credits
Bass Guitar - Ashley Hutchings
Drums - Dave Mattacks
Engineer - John Wood
Guitar - Richard Thompson
Guitar - Simon Nicol
Photography [Cover] - Eric Hayes
Producer - Joe Boyd
Violin, Viola - Dave Swarbrick
Vocals - Sandy Denny
Strawberry Bricks Entry:
On May12th, 1969, Fairport Convention was involved in a motorway accident that claimed the lives of drummer Martin Lamble and clothing designer Jeannie Franklyn (then-girlfriend of Richard Thompson, to whom Jack Bruce would dedicate his debut solo album). Sandy Denny wasn't travelling with the band, choosing instead to ride with her boyfriend Trevor Lucas and his band, Eclection. After recruiting traditional fiddler Dave Swarbrick and drummer Dave Mattacks, and recuperating at Farley Chamberlayne, the band responded with their strongest album yet, Liege & Lief. The rousing "Come All Ye" sets the opening tone high, followed however by the haunting and dirge-like "trad arr" ballad, "Reynardine." Another traditional number, "Matty Groves," rocks the band back into action. Both that and the excellent "Tam Lin" showcase the immense talent and interplay between Thompson, Swarbrick and guitarist Simon Nicol. Thompson contributes two songs, "Farewell, Farewell" and "Crazy Man Michael," but the bulk of the album is taken from British folk songs, many from the collection of Cecil Sharp. Reaching No. 17 in the UK charts, the record has become the gold standard for British folk rock. Ashley Hutchings then left to form Steeleye Span (and later the Albion Country Band), while Denny would start her own band, Fotheringay. Once again Fairport double-downed on the change, recruited Dave Pegg on bass and the resulting Full House album spent weeks on the UK Chart, cresting at No. 13. Over the next few years, the folk rock scene would experience a musical renaissance in England, one that was certainly progressive in its own right. Along with Pentangle and Steeleye Span, Fairport Convention would endure numerous personnel changes yet enjoy a long career and international success.