Live At The BBC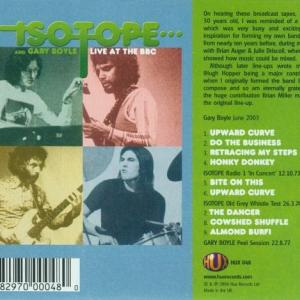 Artist:
Isotope / Gary Boyle
Tracklist
1
Upward Curve
2
Do The Business
3
Retracing My Steps
4
Honky Donkey
5
Bite On This
6
Upward Curve
7
The Dancer
Notes:

Zoe Kronberger - Composed By

8
Cowshed Shuffle
9
Almond Burfi
Credits
Jeff Clyne - Bass
Steve Shone - Bass
Brian Miller - Composed By
Gary Boyle - Composed By
www.9thplanetdesign.com - Design [Package]
Nigel Morris - Drums
Sergio Castillo - Drums
Dave Dade - Engineer
Gary Boyle - Guitar
Brian Miller - Keyboards
Geoff Downes - Keyboards
Zoe Kronberger - Keyboards
Phil Howitt - Liner Notes
Russell Pay - Mastered By
Tony Wilson - Producer
Notes
Mastered at the CD Clinic.
Released by arrangement with BBC Music. Licensed by BBC Worldwide Ltd.
A BBC Music Production.