Live Floating Anarchy 1977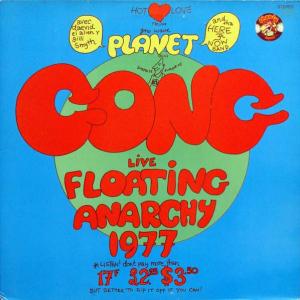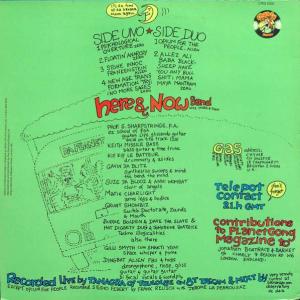 Label:
Charly Records Ltd.
Tracklist
A1
Psychological Overture
2:36
A2
Floatin' Anarchy
5:15
A3
Stone Innoc Frankenstein
3:18
A4
New Age Transformation Try / No More Sages
12:06
B1
Opium For The People
4:23
B2
Allez Ali Baba Black-Sheep Have You Any Bullshit / Mama Maya Mantram
15:01
Credits
Bass - Keith Bailey
Drums - Keith Dobson
Guitar [Electric, Glissando], Vocals - Daevid Allen
Guitar [Electric, Glissando], Vocals - Steffe Sharpstrings
Synthesizer - Gavin Da Blitz
Vocals [Space Whisper], Voice - Gilli Smyth
Notes
All tracks recorded live on 8-track Tascam
and mixed by very remote control
at Bananamoon Observatory De Deia
except B1 recorded at Studio Febert
Strawberry Bricks Entry:
The start of the Here & Now band stretches back to 1974 and the squats of London's Ladbroke Grove. Taking their name from the book Be Here Now by Ram Dass, the band's lineup was as fluid as their improvisations: never recorded and performed for free. A sort of critical mass, however, was reached at Watchfield Free Festival in 1975. Here, the band comprised of drummer Keith "Kif Kif Le Batteur" Dobson, synth player Paul "Twink" Noble, bassist Keith "Da Missile Bass" Bailey, and guitarist Stephen "Steffe Sharpstrings" Lewry, along with dancer/singers Suze Da Blooz (Allport) and Anni Wombat. By the time they teamed up with Daevid Allen and Gilli Smyth for Planet Gong in 1977, Keith Da Bass had left and returned, while Twink was ousted for Gavin "Da Blitz" Allardyce. Tipped off by Gong bassist Mike Howlett, Allen and Smyth rechristened the band as Planet Gong and took to the road. A concert in Toulouse provided the tapes for Live Floating Anarchy 1977, released in 1978 on Charly Records. After a familiar introduction, "Floatin' Anarchy" blasts the record open, presenting an electric mix of so-called "space and punk." The tune, along with much of the album, was repurposed Here & Now material (denoted by the writing credit "Zero"). But Allen's "Stone Innoc(ent) Frankenstein" puts the match into historic perspective: Allen's been there all along. "New Age Transformation Try: No More Sages" stretches out into long-form free-form; it's a heady groove, as hypnotic and satisfying as anything from Allen's former group. The studio "Opium for the People" was released as a single, but the second side's improv "Allez Ali Baba Black-Sheep Have You Any Bullshit: Mama Maya Mantram" again goes big, offering a much harder edge. In particular, Steffe Sharpstrings and Keith Da Bass shine throughout the record. The album reputedly sold quite well, making it one of the most successful in the greater Gong canon. Yet Allen and Smyth backed out of a tour in early Spring 1978, bringing Planet Gong to a screeching halt. Nevertheless, Here & Now was just beginning their recording career.