Living In Fear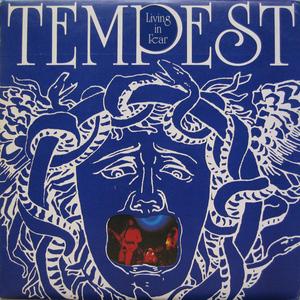 Tracklist
A1
Funeral Empire
4:25
Notes:

Written-By - Ollie Halsall

A2
Paperback Writer
2:30
Notes:

Written-By - Lennon-McCartney

A3
Stargazer
3:36
Notes:

Written-By - Mark Clarke
Written-By - Susie Bottomley

A4
Dance To My Tune
7:50
Notes:

Written-By - Mark Clarke
Written-By - Susie Bottomley

B1
Living In Fear
4:19
Notes:

Written-By - Ollie Halsall

B2
Yeah Yeah Yeah
3:40
Notes:

Written-By - Jon Hiseman
Written-By - Ollie Halsall

B3
Waiting For A Miracle
5:18
Notes:

Written-By - Ollie Halsall

B4
Turn Around
6:12
Notes:

Written-By - Mark Clarke
Written-By - Susie Bottomley
Credits
Bass Guitar - Mark Clarke
Design [Sleeve] - Fabio Nicoli Associates
Drums, Percussion - Jon Hiseman
Engineer - Geoff Emerick
Guitar, Synthesizer [Moog], Piano - Ollie Halsall
Photography - Fin Costello
Producer - Gerry Bron
Vocals - Mark Clarke
Vocals - Ollie Halsall
Notes
Recorded October/November 1973 at Air Recording Studios, London.
℗ 1974 Bronze Records Ltd.
Manufactured and distributed by Island Records.
The original inner sleeve states "Living in Fear" in the front cover bow of the P of Tempest
and displays the bandshot from the sleeve backside in the "mouth". Credits on inner sleeve.
Strawberry Bricks Entry:
Tempest recorded a second album, Living In Fear, in late 1973. Ollie Halsall, fresh from a defunct Patto, brought a more immediate guitar as well as lead vocals to the band. The album was produced by Gerry Bron, with Geoff Emerick behind the controls. Halsall's "Funeral Empire" opens, a solid rocker with some creative synthesizer and a great break, while a cover of The Beatles' "Paperback Writer," featured in their live set, follows. The album is a far more successful heavy rock album than their debut, with Mark Clarke's compositions, including the excellent "Stargazer" and "Dance to My Tune," the cream of a very good crop. The latter track features an extended guitar solo from Halsall, over Clarke and Jon Hiseman's heavy, solid rhythm. The title track is another of Halsall's tunes, with the guitarist adding piano. Written with Hiseman, the poppy "Yeah Yeah Yeah" swings a bit, while "Waiting for a Miracle" offers both a nice acoustic touch, and Halsall's fine vocals. Clarke's "Turn Around" closes with power. Big riffing, it again showcases Halsall's legato technique on guitar. Live recordings from the period confirm that this power trio was the band's peak, and it also may have been Halsall's apex as a guitar god. However, major success found neither Halsall nor Tempest; and by the middle of 1974, the band was done. Hiseman put together a new band the following year, christening them Colosseum II. Mark Clarke left to join Natural Gas (with Humble Pie's Jerry Shirley and Badfinger's Joey Molland). Ollie Halsall would split the next few years between a long and fruitful collaboration with Kevin Ayers (whom he met while recording the album at AIR Studios), and again with Mike Patto in the more straightforward rock band Boxer.