The Low Spark Of High Heeled Boys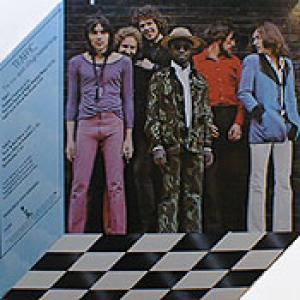 Tracklist
A1
Hidden Treasure
4:16
Notes:

Written-By - Jim Capaldi
Written-By - Steve Winwood

A2
The Low Spark Of High Heeled Boys
12:10
Notes:

Written-By - Jim Capaldi
Written-By - Steve Winwood

A3
Rock And Roll Stew
4:29
Notes:

Written-By - Jim Capaldi

B1
Many A Mile To Freedom
7:30
Notes:

Written-By - Jim Gordon
Written-By - Rick Grech

B2
Light Up Or Leave Me Alone
5:00
Notes:

Written-By - Jim Capaldi
Written-By - Steve Winwood

B3
Rainmaker
7:39
Notes:

Written-By - Jim Capaldi
Written-By - Steve Winwood
Credits
Bass, Violin - Rick Grech
Design [Cover Design] - Tony Wright
Drums - Jim Gordon
Engineer - Brian Humphries
Percussion - Rebop Kwaku Baah
Photography - Richard Polak
Saxophone, Flute - Chris Wood
Vocals, Guitar, Piano, Organ, Producer - Steve Winwood
Vocals, Percussion - Jim Capaldi
Notes
Recorded in 1971 at Island Studios, London. Cover is diagonally die-cut at the upper right and lower left corners.
Strawberry Bricks Entry:
After their triumphant return, Traffic assembled a live unit with two members from Ginger Baker's Airforce, bassist Ric Grech and percussionist Reebop Kwaku Baah. Drummer Jim Gordon came in to allow Jim Capaldi to concentrate on vocals. Even Dave Mason returned for a few gigs in mid-1971, as documented on the interim live album, Welcome To The Canteen. However, the oddly titled The Low Spark Of High Heeled Boys was another masterpiece for the band. The album's bookends, "Hidden Treasure" and "Rainmaker," offer subtle folk flavorings; while the Capaldi-sung "Rock & Roll Stew" (a Grech/Gordon composition) and "Light Up or Leave Me Alone" rock in fine tradition. The gem of the album though is the head-nod rhythm of the title track—the slow-motion syncopation of Kwaku Baah and Gordon is simply exquisite as is the track's slow fade-out. The album broke the US Top 10, rising to No. 7; but strangely, it didn't chart in the UK. Winwood suffered some health problems that delayed Traffic's next album, Shoot Out At The Fantasy Factory, until February of 1972, by which time Capaldi had brought in the Muscle Shoals (Alabama) rhythm section of David Hood and Roger Hawkins (replacing Grech and Gordon). In 1973 they added Barry Becket on keyboards and recorded the excellent live double-album On The Road, although Live At Santa Monica, a video of a concert recorded in 1972, would become more essential viewing (it first saw release in 1987). Their final album, the excellent When The Eagle Flies, was released in 1974 with bassist Rosko Gee augmenting the original trio. Despite reaching No. 9 in the US and breaking the UK Top 30, the band called it quits shortly thereafter. Capaldi released his first solo album, Oh How We Danced, in 1972, his first of many. Following a stint in Stomu Yamash'ta's Go, Winwood would slowly gear up for mammoth solo success in the 80s.