Mainstream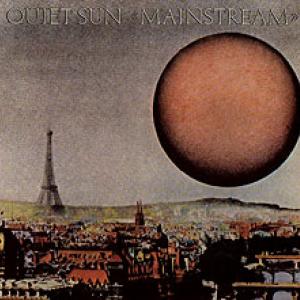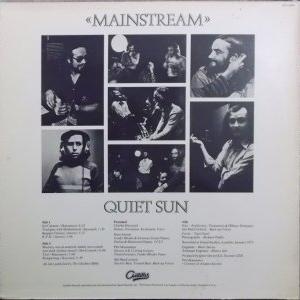 Tracklist
A1
Sol Caliente
8:02
A2
Trumpets With Motherhood
1:30
A3
Bargain Classics
5:37
A4
R.F.D.
3:09
B1
Mummy Was An Asteroid, Daddy Was A Small Non-stick Kitchen Utensil
6:09
B2
Trot
5:00
B3
Rongwrong
9:39
Credits
Artwork By - Nigel Soper
Bass [Electric, Treated], Voice [Back-up] - Bill MacCormick
Drums, Percussion, Keyboards, Voice - Charles Hayward
Electric Piano [Fender Rhodes], Piano [Steinway Grand], Organ [Farfisa, Hammond], Synthesizer [Vcs 3] - Dave Jarrett
Engineer - Rhett Davies
Engineer [Assistant] - Robert Ash
Guitar [Electric 6 String, Electric 12 String, Treated], Electric Piano [Fender Rhodes] - Phil Manzanera
Photography - Richard Wallis
Producer - Quiet Sun
Synthesizer, Treatments, Other [Oblique Strategies] - Brian Eno
Voice [Back-up] - Ian MacCormick
Written-By - Bill MacCormick
Written-By - Charles Hayward
Written-By - Dave Jarrett
Written-By - Phil Manzanera
Notes
Recorded at Island Studios, London, January 1975.
Produced for E.G. Records-LTD.
Strawberry Bricks Entry:
Quiet Sun's sole album was recorded while Roxy Music guitarist Phil Manzanera was recording his debut solo record, Diamond Head. That album included an incredible roster of musicians (and the classic track "Miss Shapiro"), but it also sought to cover the same pop territory as Roxy Music, and most certainly succeeded. Mainstream, then, was the progressive "studio twin." Manzanera returned to keyboardist Dave Jarrett, as well as Bill MacCormick and Charles Hayward: the former an ex-Matching Mole bassist, and the latter the future This Heat drummer. Quiet Sun had, in fact, first been together in 1970, while the members were at school in Dulwich; failing to ever secure a recording contract, they broke up in 1972. Thus resituated, Quiet Sun set out to right their unfinished business and record their original set of music. They share writing credits, contributed individually though; yet each track blends seamlessly into the next. "Sol Caliente" leads off; and once it kicks into full gear, the heat, as the title suggests, indeed turns up. Yet it's Manzanera's electric guitar that gives the album its unique twist on the Canterbury formula, lending it much more of a "rock" feel. To wit, it's a highly electric experience, bordering on manic at times—especially on the wonderfully titled "Mummy Was an Asteroid, Daddy Was a Small Non-Stick Kitchen Utensil." Jarrett primarily keeps his hands on both electric and acoustic pianos, while the Hayward/MacCormick rhythm section is dynamic throughout. The album's one vocal track, Hayward's "Rongwrong," takes a cue from Robert Wyatt, both musically and lyrically. But unfortunately, this would be the only album from Quiet Sun. Manzanera then formed the relatively disappointing but critically successful 801, releasing a couple of albums on Island Records before returning to Roxy Music later in the decade.