Manfred Mann Chapter Three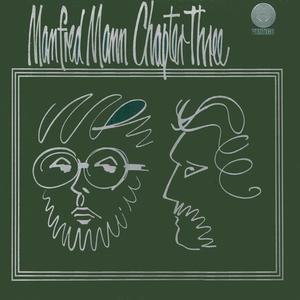 Artist:
Manfred Mann Chapter Three
Tracklist
A1
Travelling Lady
5:48
Notes:

Written-By - Manfred Mann & Mike Hugg

A2
Snakesking Garter
5:48
Notes:

Written-By - Mike Hugg

A3
Konekuf
5:58
Notes:

Written-By - Manfred Mann

A4
Sometimes
2:38
Notes:

Written-By - Mike Hugg

A5
Devil Woman
5:27
Notes:

Written-By - Mike Hugg

B1
Time
7:32
Notes:

Written-By - Mike Hugg

B2
One Way Glass
3:30
Notes:

Written-By - Manfred Mann

B3
Mister You're A Better Man Than I
5:10
Notes:

Written-By - Brian Hugg
Written-By - Mike Hugg

B4
Ain't It Sad
1:58
Notes:

Written-By - Mike Hugg

B5
A Study In Inaccuracy
4:08
Notes:

Written-By - Manfred Mann

B6
Where Am I Going
2:45
Notes:

Written-By - Mike Hugg
Credits
Arranged By [Additional Brass] - Derek Wadsworth
Arranged By [Brass] - Manfred Mann
Arranged By [Brass] - Mike Hugg
Bass [Fender], Guitar, Harp - Steve York
Drums - Craig Collinge
Engineer, Producer - Dave Hadfield
Flute [Alto] - Bernie Living
Guitar - Brian Hugg
Liner Notes - Manfred Mann
Liner Notes - Mike Hugg
Organ, Whistle [Police] - Manfred Mann
Photography - Johnny Clamp
Piano, Vocals - Mike Hugg
Trumpet, Soloist - Harry Beckett
Vocals - Manfred Mann
Notes
On rear cover:
In June 1969 Manfred Mann pop group disbanded after 5 ½ years of successfully making hit records.
Manfred Mann Chapter 3 was formed by Manfred Mann and Mike Hugg, who had originally for the Manfred Mann pop group in 1963.
This L.P. was recorded between June and October 1969 in the Old Kent Road and represents in general what we personally have been wanting to do for some years.
All songs published by Belinda Music Inc. (B.M.I.).
Polydor Inc., 1700 Broadway, New York, N.Y. 10019
We would also like to thank - Sonny Corbett, Ian Fenby, Harold Becket, David Coxhill, Derek Wadsworth, Chris Pyne, Dave Quincy, Phil Kenzie, Dave Potter, Geoff Driscoll, Nick Evans, Madeline Bell, Sue and Sonny, Brian Hugg.
On center label:
Manufactured by Polydor Incorporated, New York, N.Y.
Strawberry Bricks Entry:
It would be hard to have passed through the 60s without hearing one of Manfred Mann's numerous singles that littered the Top 10 in England—including his most famous "Doo Wah Diddy Diddy" b/w "What You Gonna Do," which topped both sides of the Atlantic. Two singers marked the band's early days: Paul Jones ("chapter one"), and in 1966, Mike D'Abo ("chapter two"). But as the South African (born Manfred Lubowitz) keyboardist entered the 70s, he and longtime musical partner Mike Hugg left the pop world behind, releasing two albums under the moniker Chapter Three. (The band was initially called Emanon, "no name" spelt backwards.) Drummer Hugg, dating back to 1962 with the Mann-Hugg Blues Brothers, was also a pianist and composer, best known for The Yardbirds' hit "You're a Better Man Than I." The group also featured future East Of Eden bassist Steve York and drummer Craig Collinge, plus Bernie Living on wind instruments, and a host of guest musicians, including Steve Corbett and Dave Coxhill. Their debut is an excellent record; serious brass arrangements outfit its heavy-ish tunes à la Colosseum, though it still sounds rooted in the 60s. No matter, check out the organ solo in "Snakeskin Garter" or the weightlessness of "Konekuf." From deep grooves to swinging jazz, the album is one dark, sexy beast! "Sometimes" is a lighter, even timeless number, while "One Way Glass" makes the best of the York and Collinge rhythm section. Hugg's voice is probably an acquired taste; here, it perfectly suits the music-just listen to how well it renders the slow, dark reinterpretation of his "Mister You're a Better Man Than I." Mann's "A Study In Inaccuracy" lets the horns honk loose, before Hugg's plaintive "Where Am I Going" closes with a touch of beauty. Released on the Vertigo label, it was followed by Volume Two in October 1970. But by then the band had split as the Mann-Hugg partnership drew to a close. A final third album was recorded but remains (mostly) unreleased.