Meddle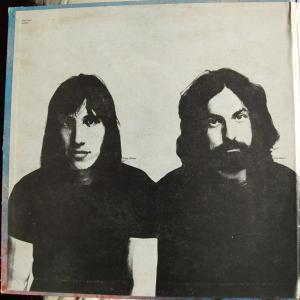 Tracklist
A1
One Of These Days
5:50
Notes:

Written-By - David Gilmour
Written-By - Nick Mason
Written-By - Richard Wright
Written-By - Roger Waters

A2
A Pillow Of Winds
5:10
Notes:

Written-By - David Gilmour
Written-By - Roger Waters

A3
Fearless
6:03
Notes:

Written-By - David Gilmour
Written-By - Roger Waters
Written-by [Interpolation] - Rodgers & Hammerstein

A4
San Tropez
3:42
Notes:

Written-By - Roger Waters

A5
Seamus
2:09
Notes:

Written-By - David Gilmour
Written-By - Nick Mason
Written-By - Richard Wright
Written-By - Roger Waters

B
Echoes
23:31
Notes:

Written-By - David Gilmour
Written-By - Nick Mason
Written-By - Richard Wright
Written-By - Roger Waters
Credits
Design [Sleeve Design] - Pink Floyd
Engineer [Air Studios, Emi Abbey Road] - John Leckie
Engineer [Air Studios, Emi Abbey Road] - Peter Bown
Engineer [Morgan Studios] - Robin Black
Engineer [Morgan Studios] - Roger Quested
Performer - David Gilmour
Performer - Nick Mason
Performer - Richard Wright
Performer - Roger Waters
Photography [Inside Photo] - Hipgnosis
Photography [Outer Sleeve Photos] - Bob Dowling
Producer - Pink Floyd
Notes
"Fearless" includes an interpolation of Rodgers & Hammerstein's "You'll Never Walk Alone."
Recorded in London, UK at Air Studios, EMI Abbey Road & Morgan Studios in 1971.
Strawberry Bricks Entry:
After the critical (and self-critical) reaction to their previous album Atom Heart Mother, Pink Floyd spent a great deal of time on their follow-up, Meddle. The album is often mistakenly called "Echoes," as the track of the same name encompasses the record's entire second side. Except for a break to compile Relics, the band spent the better part of six months on the track, which they first played live under the name "Return of the Son of Nothing" in April 1971. Using Morgan, AIR (with 16-track capabilities) and Abbey Road Studios, the band finally finished the track in July. The wait was worth it. Rising from Rick Wright's patented sonar ping, the central melody is mature; it shows exactly where the band's next album would draw from. The following extended instrumental workout confirms the band could still flex their muscle and that David Gilmour is one helluva guitarist. The obligatory drift of the middle section is a clichéd throwback; but thankfully, the band reprises the central melody again, closing the track in a similar way to how it began. (Be sure to check out the live version on Live At Pompeii, filmed in October 1971.) As a composition, "Echoes" was a major success for the band, picking up and progressing from where "Careful with That Axe, Eugene" and "Set the Controls for the Heart of the Sun" left off. Unfortunately, the first side of the album wasn't as successful; recorded quickly in July and August, most of the tracks are throwaways. The exception, "One of These Days," centers on Roger Waters's echoed bass line and Gilmour's lap steel guitar, fading nicely into the gentle "A Pillow of Winds." The guitar riff of "Fearless" is Zeppelin-esque—fine enough, but not essential. The album hit No. 3 in the UK, but surprisingly only reached No. 70 in the US. A quadraphonic mix of the album was completed in September 1971 at Command Studios; however, it remains unreleased. The group photo on the inside of the gatefold speaks a thousand words of the era.