Meet The Residents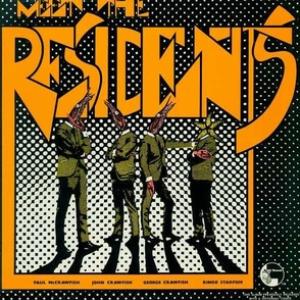 Tracklist
A1
Boots
1:30
Notes:

Written-By - Lee Hazlewood

A2
Numb Erone
1:23
A3
Guylum Bardot
1:22
A4
Breath And Length
1:45
Notes:

Vocals - Ruth Essex

A5
Consuelo's Departure
1:55
A6
Smelly Tongues
1:35
Notes:

Vocals - Wool

A7
Rest Aria
5:41
A8
Skratz
1:18
A9
Spotted Pinto Bean
6:37
Notes:

Oboe - Philip Friehofner
Piano - James Whitaker
Vocals - Pamela Wieking

B1
Infant Tango
6:01
Notes:

Bass - Bobby Tagney
Bass, Guitar - James Aaron

B2
Seasoned Greetings
5:12
B3
N-ER-GEE
10:06
Credits
Composed By, Arranged By - Residents
Design [Cover] - Pore No Graphics
Photography [Cover] - Robert Freeman
Producer - Residents
Notes
Only between 1000 and 1050 copies of this original version with the 'defaced' Beatles cover were ever pressed. Of these around 100 were rejected and disposed of due to warpage.
This is the mono unedited version.
Track B3 on the record label titled "N-ER-GEE (A Crisis Bluesuite)"
Printed on the back cover is "First Pressing- 1000 Discs- February, 1974"
Recorded February - October 1973.
Ads for the album were placed in File magazine stating the album could be bought by mail order for only $1.99 with a reply slip which could be mailed to Ralph Records (at the time albums retailed for around twice that).