Minstrel In The Gallery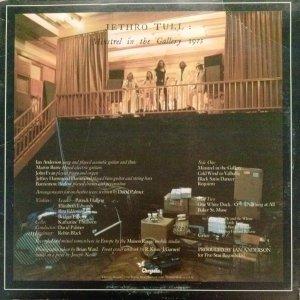 Tracklist
A1
Minstrel In The Gallery
8:09
A2
Cold Wind To Valhalla
4:17
A3
Black Satin Dancer
6:51
A4
Requiem
3:41
B1
One White Duck / O10 = Nothing At All
4:35
B2.1
Pig-Me And The Whore
16:40
B2.2
Nice Little Tune
B2.3
Crash-Barrier Waltzer
B2.4
Mother England Reverie
B3
Grace
0:37
Credits
Artwork By [Front Cover] - J. Garnett
Artwork By [Front Cover] - R. Kriss
Bass [Bass Guitar], Double Bass [String Bass] - Jeffrey Hammond-Hammond
Cello - Katherine Thulborn
Conductor - David Palmer
Drums, Percussion - Barriemore Barlow
Engineer - Robin Black
Guitar [Electric] - Martin Barre
Leader [Violins] - Patrick Halling
Photography - Brian Ward
Piano, Organ - John Evan
Producer - Ian Anderson
Violin - Bridget Procter
Violin - Elizabeth Edwards
Violin - Rita Eddowes
Vocals, Acoustic Guitar, Flute - Ian Anderson
Written-by [All Compositions] - Ian Anderson
Written-by [Arrangements For Orchestra] - David Palmer
Notes
Recorded and mixed somewhere in Europe by the Maison Rouge mobile studio.
Front Cover Artwork based on a print by Joseph Nash.
Strawberry Bricks Entry:
To record the band's eighth album, Ian Anderson assembled the crew in Monte Carlo with their new mobile studio: no grand compositional aspirations this time, but perhaps a little holiday fun. What came out was an album of contrasts and one of Jethro Tull's most dynamic records—polarized between the acoustic of the minstrel and the electric of the band. The title track kicks off quietly with Anderson literally in character; but soon the band lets loose, propelled by Barriemore Barlow's kick drum and one helluva riff from Martin Barre's guitar. One moment soft and introspective, the next erupting into hard rock, this contradiction of Anderson's acoustic musing and the band's near-ferocious nature is the album's strength. In particular, Minstrel In The Gallery finds Barre with his amp turned up to the proverbial "11." "Cold Wind to Valhalla" and "Black Satin Dancer" follow the same formula to similar effect, but the dichotomy is still apparent; the band's fiery instrumental passages rarely overlap Anderson's song craft (David Palmer's orchestration does, yet it's complementary as always). Anderson adds a couple of solo acoustic numbers accompanied by string quintet, including the fine "One White Duck/010 = Nothing at All." "Baker St. Muse" comprises most of the second side and is a slight return to former prog glory; though refreshingly, Anderson keeps things in check, as the mini-epic retains all the old Tull's flavor and intensity in a right-sized portion. The album made the Top 20 in the UK and reached No. 7 in the US, where an edited version of the title track also became a minor hit single. Hammond would exit the band after the album's release, to be replaced by ex-Carmen bassist John Glascock.