Mona – The Carnivorous Circus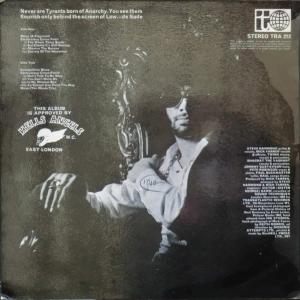 Label:
Transatlantic Records
Tracklist
A1
Mona (A Fragment)
B1
Summertime Blues
B6
Mona (The Whole Trip)
Credits
Mick Farren - Producer
Notes
Deviants front man's first solo album.
Strawberry Bricks Entry:
Following his ejection from The Deviants during their 1969 US tour, Mick Farren returned to the UK. With a contractual obligation to Transatlantic Records outstanding, he teamed up with guitarist Steve Hammond and both John Gustafson and Peter Robinson of Quatermass. Farren also enlisted Twink and Steve Peregrine Took, as a sort of precursor to the Pink Fairies, along with a few other mates. Both sections of "Mona,"-yes, the same Bo Diddley number covered by The Rolling Stones and The Troggs- are typical of Farren's love for rock 'n' roll as he played it with The Deviants. The opening "Mona (A Fragment)" adds some congas to accentuate the beat, while the closing "Mona (The Whole Trip)" features some rough-sounding cello from arranger and Elton John cohort Paul Buckmaster. It's not easy listening by any stretch, but perhaps that's the point. Sandwiched in between is a rousing if unspectacular cover of "Summertime Blues." But the real meat of the album begins when the band, including bassist Gustafson and organist Robinson, join guitarist Hammond and drummer Twink for the funky, dark groove of "Carnivorous Circus." The second part is more varied, with transitions between the different sections that are sometimes quite abrupt. The final part, led by a lone, acoustic guitar, breaks down to thick, elegiac guitar lines. Farren would put his music career on the back-burner for the remainder of the decade. He would become a noted journalist, writing for New Music Express and International Times, and an author. His first novel, The Texts of Festival, was published in 1973.