Musik Von Harmonia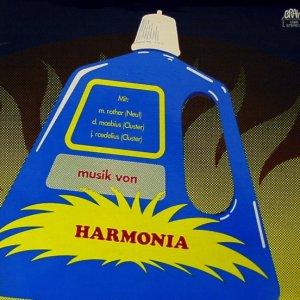 Tracklist
A1
Watussi
5:55
A2
Sehr Kosmisch
10:50
A3
Sonnenschein
3:50
B1
Dino
3:30
B2
Ohrwurm
5:05
B3
Ahoi!
5:00
B4
Veterano
3:55
B5
Hausmusik
4:30
Credits
Design [Cover] – Harmonia
Guitar, Piano, Organ, Percussion [Electronic] – Michael Rother
Organ, Keyboards, Guitar, Percussion [Electronic] – J. Roedelius*
Photography By – Ann*, Gilli (3), Karin (32)
Producer – Harmonia
Synthesizer, Guitar, Percussion [Electronic] – D. Moebius*
Written-By – Moebius*, Roedelius*, Rother*
Notes
Recorded At – Harmonia Studio Forst
Recorded At – Paradiso Amsterdam
Mastered At – Tonstudio Pfanz
Manufactured By – Metronome Records GmbH
Recorded and produced at the Harmonia Heimstudio, Forst, Germany, June - November 1973.
Strawberry Bricks Entry:
In 1971, Dieter Moebius and Hans-Joachim Roedelius moved camp to the idyllic rural setting of Forst in Weserbergland, Lower Saxony. Michael Rother came to visit the duo, ostensibly looking to expand Neu!'s lineup for live shows, yet ended up staying and forming the trio Harmonia with them. On their debut, the electronic noises start to take shape and roughly form songs. Backed by a drum machine, "Watussi" plods along happily over its six minutes. The ambient texture of "Sehr Kosmisch" is indeed cosmic, while "Sonnenschein" skips over its brisk beat. Rhythmically, the tracks tend to be built from a drum pattern and short sequences, with longer, sweeping electronic and guitar passages laid over the top. "Dino" and "Veterano" have that motorik beat, but "Ohrwurm" harks back to the Cluster of old. "Ahoi!" follows a minimal piano line, while the closing "Hausmusik" ebbs and flows over large washes of sound. Certainly improvisational, Harmonia signals another progression in the music of Roedelius and Moebius. Although released as a Cluster album, the upbeat Zuckerzeit was recorded next and featured Rother as a producer. Harmonia's second album, Deluxe, released again on Brain in 1975, was more substantial, with Mani Neumeier of Guru Guru providing drums and, for the first time, Harmonia offers vocals. It's a rousing, even rocking album at times; yet another chapter in the history of both Cluster and Rother would soon be written with the arrival of Brian Eno in Forst in late 1976.