Nova Solis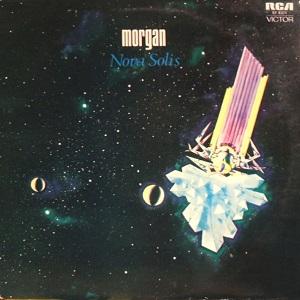 Tracklist
A1
Samarkhand The Golden
A2
Alone
A3
War Games
Credits
Bob Sapsed - Bass [Fender Precision Fretless]
Maurice Bacon - Drums [Ludwig], Gong
Rodolfo Grappa - Engineer
Morgan Fisher - Organ [Hammond X66 & M102], Piano [Hohner Pianet], Mellotron, Grand Piano, Synthesizer [Vcs3 + Dk1 Keyboard], Finger Cymbals, Grand Piano [Electric], Spinet
Gianni Grandis - Producer
Morgan - Producer
Tim Staffell - Vocals, Acoustic Guitar [Aria Nylon String, Eko Twelve String], Tambourine, Timpani
Notes
Comes in a gatefold cover.
Includes an insert sheet.
Strawberry Bricks Entry:
Love Affair were a soul band from London that scored a UK No. 1 hit with "Everlasting Love" b/w "Gone Are the Songs of Yesterday" in 1968. Following vocalist Steve Ellis's departure in 1969, keyboardist Morgan Fisher and drummer Maurice Bacon re-branded the group as L.A. to distance themselves from their pop audience and past. Adding bassist Bob Sapsed along the way, they recorded an excellent if uneven album, New Day, in 1970. Part soul and part underground rock, the album spotlighted Gus Eadon's strong voice and flute. But by the following year, the split from Love Affair was complete: Fisher, Bacon and Sapsed recruited vocalist Tim Staffell from the pre-Queen band Smile and as Morgan went full-on progressive. The band signed a lucrative deal with RCA Italy in early 1972 and then went off to Rome to record their debut album, Nova Solis. "Samarkhand the Golden" blasts off; Fisher's various keyboard tones are exquisite. The album follows the theme-based compositions of Morgan's keyboard-trio peers, but with Staffell's high tenor and Spased's rubbery, fretless bass, the band offers their own original and exciting take on prog rock. "Alone" is an acoustic-based number from Staffell, while the following "War Games" begins with a blast of VCS3 synthesizer. The second side is encompassed with the side-long "Nova Solis," Staffell's tale of space travel, with music from Fisher and his galaxy of keyboards. Morgan recorded a second album in 1973, but it was rejected by RCA; and after residency commitments to the Marquee Club, the band folded. The album did eventually find release in the US in 1976 on Import Records with its original title, Brown Out, and with its alternate title, The Sleeper Awakes, on UK's Cherry Red label in 1978. Fisher then went on to join Mott The Hoople and British Lions, but also curated the eclectic Miniatures album in 1980. Staffell, on the other hand, turned to a career of crafting models, including the trains on the original Thomas the Tank Engine television series. Meanwhile, Bacon followed his father's footsteps into artist management.