Phos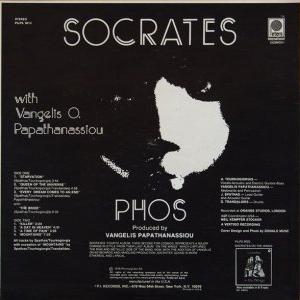 Artist:
Socrates Drank The Conium
Tracklist
A1
Starvation
3:44
A2
Queen Of The Universe
4:56
A3
Every Dream Comes To An End / The Bride
9:33
B1
Killer
2:24
B2
A Day In Heaven
4:31
B3
A Time Of Pain
3:26
B4
Mountains
7:23
Credits
Acoustic Guitar - John Spathas
Acoustic Guitar - Αντώνης Τουρκογιώργης
Bass, Electric Guitar, Vocals - Αντώνης Τουρκογιώργης
Drums - George Tradalidis
Keyboards, Percussion, Producer - Vangelis
Lead Guitar - John Spathas
Notes
Socrates fourth album, their second for Cosmos, represents a major change in style from their last album "On The Wings" which captured the raw and metallic side of the band. Now, with the addition of Vangelis on keyboards and handling production, Socrates' sound is more ethereal and lyrical. (original liner notes)
Strawberry Bricks Entry:
Phos was, in fact, the Greek band's fourth album, and represented a significant change in style from their earlier releases. Originally named Socrates Drank the Conium, the band centered their heavy, blues-based psychedelic rock on John Spathas's guitar work, influenced greatly by Jimi Hendrix. Not that much had changed by their third album, 1973's On The Wings, which was their first to see release outside of Greece. In the US, it was the first of two records from the band to see release on the Peters International Cosmos label. In 1975, the original trio of Spathas, drummer George Tourkogiorgis and bassist Anthony Trandalides, hooked up with Vangelis in London's Orange Studio (with future Nemo Studio manager Keith Spencer-Allen), just after the keyboardist moved shop to England (and prior to his big success as a solo artist). Vangelis provided significant contributions to the album, Phos, as both keyboardist and producer to the Tourkogiorgis/Spathas compositions. The opener "Starvation" is a remake from the band's first album. Spathas's multi-tracked guitars are still primary, but Vangelis's trademark keyboard tones provide additional color. "Queen of the Universe" and "The Bride" refreshingly hint at Greek folk music, while "Killer" goes for heavier rock. The complexities of "Time of Pain" and "Mountains," barring the latter's long fade are reminiscent of Gentle Giant—and, for that matter, good prog rock. Socrates only misses the mark when the tempo slows, as on "A Day in Heaven" and the group-written "Every Dream Comes to An End;" the former is pedestrian rock, and the latter is an uninspired blues-based instrumental. While it featured a unique combination of talent, this would be the only record from this lineup; though some years later, Spathas and Tourkogiorgis would reunite for another round of albums. In the meantime, Vangelis would, of course, continue being Vangelis.