Plastic People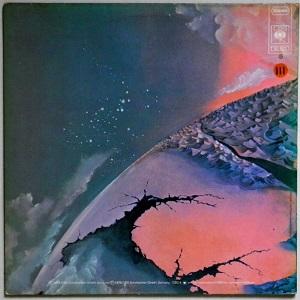 Tracklist
A1
Plastic People ("You Meet Them Everywhere")
10:54
Notes:

Effects [Marching Plastic People Done By] - Bernd Noske
Effects [Marching Plastic People Done By] - Zeus B. Held
Effects [Special Reverbeffects] - Robert Camis de Fonseca
Lead Vocals - Peter Foeller

A2
Tiny Flashlights ("Beloved Coffein")
7:33
Notes:

Lead Vocals - Bernd Noske
Lead Vocals - Peter Foeller
Tenor Saxophone - Zeus B. Held

A3
My Mind ("The Sad Man With The Third Ear")
6:49
Notes:

Arranged By [Strings] - Bruno Frenzel
Cello - Joachim von Grumbkow
Lead Vocals - Bernd Noske
Vibraphone - Peter Foeller
Viola - Christoph Noppeney

B1
Rockin' Rollin' Roller ("Tell Me Whatever You Want")
5:43
Notes:

Lead Vocals - Peter Foeller
Tenor Saxophone, Trumpet - Zeus B. Held

B2
Trial Trip ("The Ferry To The Isle")
6:43
Notes:

Lead Vocals - Bernd Noske
Lead Vocals - Peter Foeller

B3
This Song Is Just For You ("An For A Brown Eyed Sweet Danseuse")
7:28
Notes:

Arranged By [Strings & Brass] - Zeus B. Held
Flute - Friedemann Leinert
Lead Vocals - Peter Foeller
Strings - Christoph Noppeney
Strings - Joachim von Grumbkow
Credits
Bass, Vocals - Peter Foeller
Drums, Percussion, Effects, Vocals - Bernd Noske
Engineer - Denim Bridges
Engineer - Toby Robinson
Guitar, Backing Vocals - Bruno Frenzel
Keyboards, Backing Vocals - Zeus B. Held
Producer, Arranged By - Birth Control
Written-By - Bernd Noske
Written-By - Bruno Frenzel
Written-By - Zeus B. Held
Notes
Recorded at Dierks Studio, Cologne in May 1975
rear-cover:
© & ℗ CBS Schallplatten GmbH Germany
Printed in Holland
Comes in a gatefold cover and with special designed center label.
Strawberry Bricks Entry:
Originating from the German city of Cologne, Birth Control was one of the first German rock bands, releasing their debut album in 1970. They played heavy rock with styling not dissimilar to Vanilla Fudge or Deep Purple; and their self-titled debut even saw a US release. The core of drummer Bernd "Nossi" Noske and guitarist Bruno Frenzel then led the band through a few well-executed but ultimately unspectacular follow-ups. In 1974, keyboardist Bernd "Zeus" Held and bassist Peter Foeller joined for the Rebirth album, another heavy rocking affair. But this was all about to change: For their next album, Plastic People, Birth Control found inspiration in British prog rock. This was no cheap imitation either, as Held's keyboards here offer a richness to the heavy Birth Control sound. And despite the new complexity, the opening "Plastic People" still rocks hard. Held's command of the organ in particular is first-class. But then, "Tiny Flashlights" sees him switch to electric piano for its jazzier meter; while "My Mind" journeys into the classical realm, with assistance from Hoelderlin members. "Rockin' Rollin' Roller" lives up to its title, with Frenzel stepping up front. Noske's English-language vocals are gritty and strong—and perhaps the clearest of his German contemporaries. Both "Trial Trip" and "This Song Is Just for You" hark back to their previous work, though the latter offers some fastidious string and brass arrangements from Held. The album was original, exceptionally recorded and a positive change in direction for the band. One of the most popular live acts in Germany at the time, Birth Control earned themselves an invitation to tour the UK.