Please Don't Touch!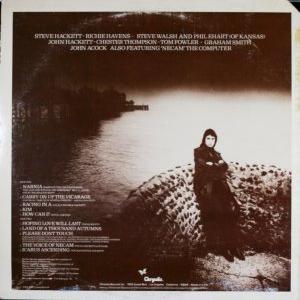 Tracklist
A1
Narnia
4:05
Notes:

Vocals - Steve Hackett
Vocals - Steve Walsh

A2
Carry On Up The Vicarage (A Musical Tribute To Agatha Christie)
3:09
Notes:

Vocals - Steve Hackett

A3
Racing In A
5:05
Notes:

Vocals - Steve Hackett
Vocals - Steve Walsh

A4
Kim
2:11
A5
How Can I?
4:36
Notes:

Vocals - Richie Havens

B1
Hoping Love Will Last
4:23
Notes:

Soprano Vocals - Maria Bonvino
Vocals - Randy Crawford

B2
Land Of A Thousand Autumns
1:35
B3
Please Don't Touch
3:39
B4
The Voice Of Necam
3:11
Notes:

Vocals - Feydor
Vocals - Steve Hackett

B5
Icarus Ascending
6:24
Notes:

Vocals - Richie Havens
Vocals - Steve Hackett
Credits
Bass - Tom Fowler
Cello - Hugh Malloy
Drums, Percussion - Chester Thompson
Drums, Percussion - Phil Ehart
Keyboards - David LeBolt
Keyboards, Flute - John Hackett
Keyboards, Producer, Engineer - John Acock
Percussion - James Bradley
Percussion - Richie Havens
Synthesizer, Guitar, Acoustic Guitar, Effects, Computer, Mellotron, Bells, Tape [Loops], Keyboards, Percussion, Producer, Written-by, Arranged By - Steve Hackett
Violin - Graham Smith
Notes
Recorded at Cherokee Studios, Kingsway Studios, Record Plant & De Lane Lea Studios between November 1977 and February 1978.
Track A1 based on the childrenbook "The Lion, The Witch & The Wardrobe" by C.S. Lewis.
Track B3: For maximum effect this track should be listened to as loudly as possible with as much treble and bass as your system can muster - not to be played to people with heart conditions or those in severely hallucinogenic states of mind.
MADE IN USA
Strawberry Bricks Entry:
Steve Hackett began his solo career in earnest with his second record. So, it should come as no surprise that none of his Genesis bandmates contribute here. Instead, Hackett opted for a diverse guest list: Steve Walsh and Phil Ehart of Kansas, labelmate Graham Smith, Chester Thompson (well, not technically a member of Genesis), the returning John Acock and John Hackett, and a few unlikely candidates—namely, vocalists Richie Havens and Randy Crawford. Please Don't Touch begins with a few numbers that wouldn't sound out of place on a Kansas record. In fact, it's worth noting that the single release of "Narnia" b/w "Please Don't Touch" featured John Perry on vocals, as Walsh's record label feared that fans would confuse it for a new Kansas single! Fast and furious, the tracks reflect the harder edge of Hackett's songwriting. Dedicated to his wife (who would also provide the paintings for most of his album covers), "Kim" showcases Hackett's favor for nylon-string guitar. His brother John provides a lone flute line, which is simultaneously haunting and beautiful. "How Can I?" features Havens's raspy voice, and who would have guessed it would be such a perfect match? The second side runs continuous, and again parades the album's diversity. Featuring Crawford, "Hoping Love Will Last" is an interesting mix, soulful and progressive in the same pass. The title track covers the same instrumental terrain as Genesis, but Hackett also lances out with some furious guitar work—again, something he'd never have managed to do with that band. "The Voice of Necam" flows effortlessly into "Icarus Ascending;" again with Havens on vocals, it's another achingly beautiful song, giving the record a powerful and soulful ending. The album reached the UK Top 40, though it failed to chart in the US. Hackett would then assemble a touring band, with greater success just around the corner.