Prologue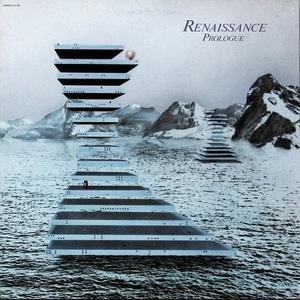 Tracklist
A1
Prologue
5:39
Notes:

Written-By - Michael Dunford

A2
Kiev
7:39
Notes:

Written-By - Betty Thatcher
Written-By - Michael Dunford

A3
Sounds Of The Sea
7:09
Notes:

Written-By - Betty Thatcher
Written-By - Michael Dunford

B1
Spare Some Love
5:05
Notes:

Written-By - Betty Thatcher
Written-By - Michael Dunford

B2
Bound For Infinity
4:17
Notes:

Written-By - Betty Thatcher
Written-By - Michael Dunford

B3
Rajah Kahn
11:14
Notes:

Synthesizer [Vcs3 Solo] - Francis Monkman
Written-By - Michael Dunford
Credits
Arranged By - John Tout
Arranged By - Michael Dunford
Artwork By [Cover] - Hipgnosis
Artwork By [Cover] - Ronchetti & Day
Bass, Performer [Tampoura], Vocals - Jon Camp
Engineer - Mick Glossop
Engineer - Mike Weighell
Guitar, Mandolin, Bells [Chimes], Vocals - Rob Hendry
Keyboards, Vocals - John Tout
Percussion - Terry Sullivan
Photography - M. Copeland
Producer - Miles Copeland
Producer - Renaissance
Vocals, Percussion - Annie Haslam
Notes
℗ 1972 Capitol Records, Inc.
Recorded at Nova Sound Studios, London, June-July 72.
Special thanks to Mick Dunford, Dennis Bertrand and Cyclops B. Banjo.
A Pytheon Production.
This album is dedicated to Mick Parsons.
Strawberry Bricks Entry:
Renaissance first appeared in the timeline back in the late 60s, as a group formed by ex-Yardbirds members Keith Relf and Jim McCarty. Quite incredibly, the same band reappeared years later with no original members. Their auspicious "re-debut" Prologue, the first of two albums for Capitol Records, builds on the premise of their predecessors, but with some changes: The title track bangs open with John Tout's grand piano, copping a quote straight from one of the Russian Kuchka ("mighty handful"). But Annie Haslam's voice, soaring high along with the melody, is the big news. Far more West End than Carnaby Street, her vocals would come to define the band. Propelled by the brisk rhythm of drummer Terry Sullivan and bassist Jon Camp, the McCarty-penned "Kiev" offers the band's typical romanticism in a rock 'n' roll setting, while Haslam's voice breaks out on "Sounds of the Sea." The second side opens with the 60s throw-back "Spare Some Love," but does provide some electric guitar, something Renaissance music would rarely feature. "Rajah Khan" is the album's gem, a raga-flavored instrumental that features some cool VCS3 synthesizer from Curved Air's Francis Monkman. Fairly psychedelic, it crosses over into some interesting (and uncharacteristic) progressive territory for the group. Their next album, 1973's Ashes Are Burning, would see main songwriter Michael Dunford replace Rob Hendry on guitar. The songwriting also would undergo further refinement into what would become the classic Renaissance sound, particularly on "Can You Understand" and the excellent title track. The winsome "Carpet of the Sun" was the first to present string arrangements.