P.X.R.5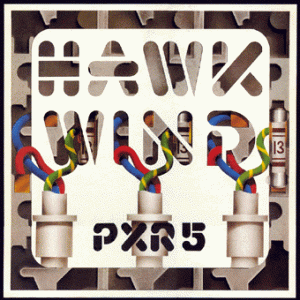 Tracklist
A1
Death Trap
3:51
A2
Jack Of Shadows
3:28
A3
Uncle Sam's On Mars
5:45
A4
Infinity
4:17
A5
Life Form
1:44
B1
Robot
8:15
B2
High Rise
4:36
B3
P.X.R.5
5:39
Credits
Bass, Vocals - Adrian Shaw
Drums - Simon King
Keyboards - Simon House
Vocals - Robert Calvert
Vocals, Bass, Guitar, Keyboards - Dave Brock
Notes
The first 5000 copies of this album come with Pete Frame's Hawkwind family tree as a poster.
The original artwork featured an incorrectly wired plug on the reverse of the sleeve which was deemed a safety risk. Subsequent copies come with a supposedly removeable sticker over the offending image stating "WARNING - THIS STICKER MUST NOT BE REMOVED". Later pressings had the artwork simply blanked-out with no sticker.
Strawberry Bricks Entry:
Early 1978 saw Hawkwind now consisting of Dave Brock and Robert Calvert, with Simon King, Simon House and Adrian Shaw also entering Rockfield studios to record a follow-up to the 1977 release Quark, Strangeness And Charm. Using live recordings from their previous UK tour as a starting point, the band recorded a handful of tracks before heading off to America in March for their first tour of the country since 1975. But all was not well. Sapped by Simon House's departure to David Bowie's band (and with Paul Hayles filling in) Brock, despondent and weary, famously sold his guitar to Mark Sperhauk at tour's end, effectively ending Hawkwind's near-decade journey. The ensuing time, however, was spent with the Hawklords; and in 1979, Charisma patched together one final Hawkwind album comprised of the tracks recorded in early 1978. "Death Trap" is a caustic rocker, threading the link between the band and punk rock, and driven, of course, by King's straight-on rhythm. Calvert's "Jack of Shadows" and "Uncle Sam's on Mars" are two of his finest songs, and neither would have been out of place on any of the other Hawkwind albums of the Charisma Records era. Two tracks originally intended for a Brock solo record, "Infinity" and "Life Form" were pulled in, too. The second side offers the sci-fi of "Robot," while "High Rise" drew inspiration from the J.G Ballard book of the same name. The Brock-penned title track dealt with the band's split in 1976, when Nik Turner, Paul Rudolph and Alan Powell all took their leave. P.X.R.5, released in June 1979, rose to No. 59 on the UK charts. But now without both a label and Calvert, Hawkwind was again at a turning point.