Quatermass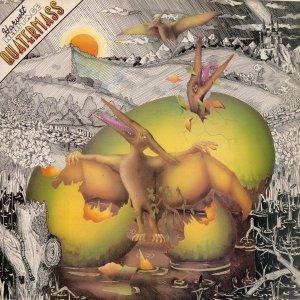 Tracklist
A1
Entropy
1:10
Notes:

Written-By - Peter Robinson

A2
Black Sheep Of The Family
3:35
Notes:

Written-By - Steve Hammond

A3
Post War Saturday Echo
9:39
Notes:

Written-By - Graham Ross
Written-By - John Gustafson
Written-By - Peter Robinson

A4
Good Lord Knows
2:51
Notes:

Written-By - John Gustafson

A5
Up On The Ground
7:05
Notes:

Written-By - John Gustafson

B1
Gemini
5:51
Notes:

Written-By - Steve Hammond

B2
Make Up Your Mind
8:41
Notes:

Written-By - Steve Hammond

B3
Laughin' Tackle
10:32
Notes:

Arranged By [Strings] - Peter Robinson
Written-By - Peter Robinson

B4
Entropy (Reprise)
0:40
Notes:

Written-By - Peter Robinson
Credits
Cello – Boris Rickelman*, Chris Green (4), Francis Gabarr*, Freddy Alexander*, Peter Wilson (6)
Cello [Leader] – Paul Buckmaster
Design [Cover], Photography By – Hipgnosis (2)
Double Bass – Arthur Watts, Frank Clarke, Joe Mudele
Drums – Mick Underwood
Engineer – Andy Stevens, Jeff Jarratt
Keyboards – Pete Robinson*
Producer – Anders Henriksson
Viola – Bernard Davis (2), Chris Wellington, Henry Myerscouh*, Ian White (3), John Graham (2), Steve Shingle*
Violin – Billy Millar*, Charlie Vorsanger*, David Katz, Derek Jacobs, Gerald Enns*, Harold Parfitt, Henry Datyner, Homi Kanga, Jack Rothstein, John Kirkland, Laurie Clay, Les Maddox, Michael Jones (6), Paul Scherman*, Bill Armon*
Violin [Leader] – Tony Gilbert
Vocals, Bass Guitar – John Gustafson
Notes
First release from 1970.
Recorded at E.M.I. Studios Abbey Road.
An A.I.R. (London) Production.
Strawberry Bricks Entry:
Bassist John Gustafson was a member of the Merseybeat band The Big Three in the early 60s. With organist Peter Robinson, he first joined up with drummer Mick Underwood in Episode Six. That lineup, however, proved to be short-lived, as the trio went off to form Quatermass in July 1969. The band derived their name from Professor Bernard Quatermass, a character from the first science fiction program on the BBC in 1953. They signed to EMI's Harvest label and their debut was recorded at EMI Studios. Similar to Atomic Rooster and Deep Purple, their music is hard-driving organ rock that never forgets its R&B roots-just check out "Good Lord Knows." Robinson is a fine organist; his solo in "Gemini" is over-the-top, while "Make Up Your Mind" dances in more progressive steps. "Laughin' Tackle" features Robinson's string arrangements, but is interrupted, unfortunately, by a drum solo. All told, the album is a unique take on the bass-drum-organ combination and features a brilliant cover from Hipgnosis. Known as a formidable live act, the band managed to tour the US in 1971. However, with little success to show for their efforts, they broke up. Around the time of the album's release, both Gustafson and Robinson made significant contributions to the soon-to-be-released Jesus Christ Superstar album. Robinson would next team up with percussionist Morris Pert in Come To The Edge and then Suntreader; and much later in the timeline, Brand X. Gustafson formed Bullet/Hard Stuff with John Du Cann and Paul Hammond of Atomic Rooster, before turning to session work, most notably with Roxy Music and Ian Gillan.