Radio-Activity (Radio-Aktivität)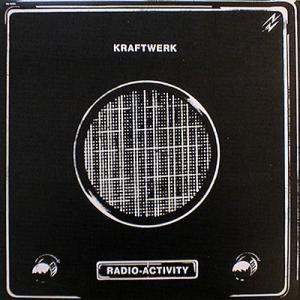 Tracklist
A1
Geiger Counter
1:04
A2
Radioactivity
6:44
A3
Radioland
5:53
A4
Airwaves
4:53
A5
Intermission
0:15
A6
News
1:31
B1
The Voice Of Energy
0:54
B2
Antenna
3:45
B3
Radio Stars
3:38
B4
Uranium
1:24
B5
Transistor
2:15
B6
Ohm Sweet Ohm
5:40
Credits
Artwork - Emil Schult
Engineer - Peter Bollig
Lyrics By [Words] - Emil Schult
Lyrics By [Words] - Florian Schneider
Lyrics By [Words] - Ralf Hütter
Management - Mr. I. Mouse
Music By, Producer - Florian Schneider
Music By, Producer - Ralf Hütter
Percussion [Electronic] - Karl Bartos
Percussion [Electronic] - Wolfgang Flür
Photography By - Robert Franck
Voice, Electronics - Florian Schneider
Voice, Electronics - Ralf Hütter
Notes
Produced 1975 Klingklang Studio, Düsseldorf, Germany.
Published by Kling Klang Musik Verlag/Famous Music Corporation/ASCAP
Ⓟ 1975 Capitol Records, Inc.
Printed in U.S.A.
The first few copies of this release contains a sheet of 16 yellow stickers with the radioactive sign on them in pink, with the words 'KRAFTWERK', 'RADIO-ACTIVITY' and the cat# ST-11457.
Includes printed inner sleeve.