Rainbow Dome Musick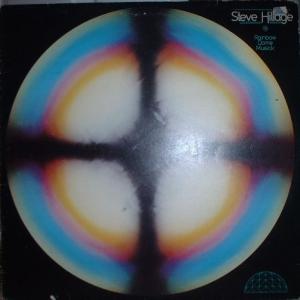 Tracklist
A
Garden Of Paradise
23:15
Notes:

Producer - Miquette Giraudy
Producer - Steve Hillage
Written-By - Miquette Giraudy

B
Four Ever Rainbow
20:30
Notes:

Producer, Written-By - Steve Hillage
Notes
Recorded for the Rainbow Dome, at the Festival for Mind-Body-Spirit Olympia London, April 21-29 1979.
Also released as a limited pressing in clear vinyl.
Strawberry Bricks Entry:
In Spring 1978, Steve Hillage and Miquette Giraudy assembled a new lineup to tour, this time with drummer Andy Anderson and ex-Man bassist John McKenzie, and Frenchman Christian Boulé returning as second guitarist. A double-album, Live Herald, was released in early 1979, and was culled from recordings of all three lineups of the Steve Hillage Band. The album's fourth side, later known as Studio Herald, offered four new recordings. "Talking to the Sun" drives over a swift sequence, but it's the funky bass and tight drumming of the rhythm section that give it a wholly contemporary feel. "1988 Aktivator" cops a "punk" vibe, while "New Age Synthesis (Unzipping the Zype)" is one of the guitarist's most arresting compositions. In addition, Hillage's lead guitar soars on the slow-tempo "Healing Feeling." (The tracks, along with half of the previous Green album, were compiled as Aura for release in the US). Continuing in the same direction, a complete studio album, Open, appeared in October. Its highlights are the fusion of "The Fire Inside" and "Earthrise," the latter an adaptation of a piece by Egyptian artist Umm Kulthum. However, after the promotional tour for the record, Hillage would opt out of future solo work (even though all of his albums charted in the UK). But of all their activities in the year, the most significant was Rainbow Dome Musick (sic): an album of "ambient" music that Hillage and Giraudy recorded for the Festival of Mind-Body-Spirit at London's Olympia exhibition center in April. Furthering their interest of electronic music, it stands as one of the earliest albums of so-called new age music and presages techno's "chill out" music of the 90s. In the 1980s, Hillage recorded a final studio record in 1983 before diving into a significant career as a Virgin Records house-producer, including work with It Bites and Tony Banks. He and Giraudy eventually resurrected themselves as techno outfit System 7 in the early 90s.