Red Queen To Gryphon Three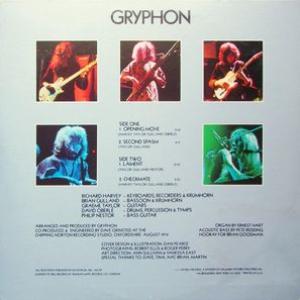 Tracklist
A1
Opening Move
9:42
Notes:

Written-By - Dave Oberlé
Written-By - Richard Harvey

A2
Second Spasm
8:15
B1
Lament
10:45
Notes:

Written-By - Philip Nestor

B2
Checkmate
9:50
Notes:

Written-By - Dave Oberlé
Written-By - Richard Harvey
Credits
Arranged By, Producer - Gryphon
Artwork By [Art Direction] - Ann Sullivan
Artwork By [Art Direction] - Vanessa East
Artwork By [Cover Design & Illustration] - Dan Pearce
Bass - Philip Nestor
Bass [Acoustic] - Pete Redding
Co-producer, Engineer - Dave Grinsted
Drums, Percussion, Timbales - Dave Oberlé
Keyboards, Recorder, Woodwind [Krumhorn] - Richard Harvey
Organ - Ernest Hart
Photography - Robet Ellis
Photography - Roger Perry
Written By, Bassoon, Woodwind [Krumhorn] - Brian Gulland
Written By, Guitar - Graeme Taylor
Notes
All tracks: Heathsite Music.
Recorded at the Chipping Norton Recording Studio, Oxfordshire, August 1974.
Hooray for Brian Goodman.
Special Thanks to – Dave, Tina, Nat, Brian, Martin.
(P) 1974 Transatlantic Records Limited.
Strawberry Bricks Entry:
Gryphon wasn't initially a rock band, but a folk band, and one playing medieval and Renaissance music at that; their first two albums were acoustic affairs recorded for the Transatlantic label. Richard Harvey and Brian Gulland, both Royal College of Music graduates, formed the band in 1971, and later added guitarist Graeme Taylor and drummer David Oberlé. Bassist Phil Nestor jumped aboard for their second album, Midnight Mushrumps, which featured the lengthy track of the same name. Their unique music earned them the distinction of being the only band to be played on all four BBC radio stations in the course of a week. However, influenced by the burgeoning progressive scene, Gryphon switched to electric instruments and rocked things up considerably for Red Queen To Gryphon Three. Offering four tracks of instrumental progressive rock, the band's Renaissance-era influences are perfectly complicated, if not lively. Harvey's use of keyboards is extensive, while Gulland takes some sort of honor in being the only bassoon and crumhorn player in a rock context. Serendipitously, the band landed the opening spot on a couple of Yes' 1974 tours, exposing their unique music to a much wider audience. The album enjoyed some success, and a US release on Bell Records (a label not known for prog rock). The band's next record, Raindance, was released the following year and continued in the same vein, though now with the addition of vocals on a few tracks. After a series of personnel changes, the band released one final album in 1977 before splitting up.