Retrospective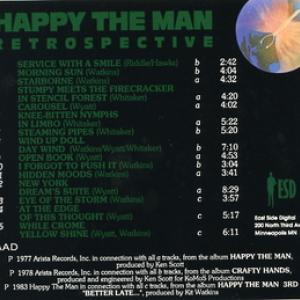 Tracklist
1
Service With A Smile
2:42
2
Morning Sun
4:04
3
Starborne
4:32
4
Stumpy Meets The Firecracker In Stencil Forest
4:20
5
Carousel
4:02
6
Knee-Bitten Nymphs In Limbo
5:22
7
Steaming Pipes
5:20
8
Wind Up Doll Day Wind
7:10
9
Open Book
4:53
10
I Forgot To Push It
3:04
11
Hidden Moods
3:41
12
New York Dream's Suite
8:29
13
Eye Of The Storm
3:57
14
At The Edge Of This Thought
5:17
15
While Chrome Yellow Shine
6:11
Credits
Bass - Rick Kennell
Drums, Percussion - Coco Roussel
Drums, Percussion - Ron Riddle
Guitar, Lead Vocals - Stanley Whitaker
Keyboards, Flute, Recorder, Marimba - Kit Watkins
Keyboards, Saxophone, Flute - Frank Wyatt
Percussion - Michael Beck
Producer - Ken Scott
Producer - Kit Watkins
Notes
Tracks 3,4,5,6,9,11, & 12 were taken from their first album, "Happy The Man". (P)1977 Arista Records, Inc.
Tracks 1,2,7,8, & 10 were taken from their second album, "Crafty Hands". (P) 1978 Arista Records, Inc.
Tracks 13,14, & 15 were taken from their third album, "3rd, Better Late...". (P) 1983 Happy The Man
There is an excellent short band history in the liner notes written by George Varga. Also in the liner notes are short bios on the band members (what they've done since the band) and short explainations of each song.