Roller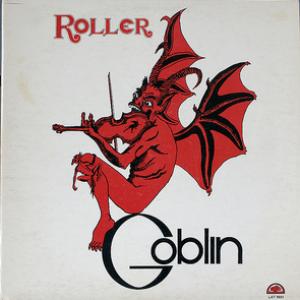 Label:
Attic Records Limited
Tracklist
A1
Roller
4:38
A2
Aquaman
5:22
A3
Snip Snap
3:37
A4
The Snake Awakens
3:27
B1
Goblin
11:10
B2
Dr. Frankenstein
6:00
Credits
Acoustic Guitar, Electric Guitar - Massimo Morante
Bass - Fabio Pignatelli
Drums, Percussion - Agostino Marangolo
Engineer - Giorgio Agazzi
Keyboards [Minimoog], Organ, Piano, Clavinet - Claudio Simonetti
Keyboards [Moog], Piano - Maurizio Guarini
Photography - Frano Vitale
Notes
P 1976 Cinevox Record SPA
Strawberry Bricks Entry:
In 1971, keyboardist Claudio Simonetti and drummer Walter Martino first teamed up in Il Ritratto di Dorian Gray: a band from Rome that played British-style prog rock. In 1973, Simonetti, now with guitarist Massimo Morante and bassist Fabio Pignatelli, traveled to London and recruited an English singer, Clive Haynes. Adopting the name Oliver, the band reputedly sparked the interest of producer Eddie Offord; it's an unsurprising connection, as music from this era sounds a lot like Yes! However, nothing panned out. Returning to Italy in 1974, the band signed to Cinevox, a company that specialized in soundtracks. With Tony Tartarini now on vocals, their first recordings for the label were released in 1976 as Cherry Five. The story may have ended here, if it were not for a fortuitous relationship that the band struck up with director Dario Argento. Hired for his debut film, the band, now called Goblin (and with Walter Martino back on drums), struck gold. The ensuing soundtrack to the cult horror classic Profondo Rosso ("Deep Red") was an instant success, selling over a million copies after topping the Italian hit-parade. It's easy to see why; The title track's theme (not dissimilar from Mike Oldfield's excerpt for The Exorcist) is outfitted with a classic prog rock arrangement: trebly bass, big organ sound and spacious production. The next album, Roller, was in fact a studio record, though the context was similar; the symphonic refrain of "Roller" features more of the same sonic textures. "Aquaman" brings Morante's guitar to the fore, while the short "Snip-Snap" is a quick-take at fusion, Italian-style. "Goblin" is the compositional highlight, while the closing "Dr. Frankenstein" is indeed cinematic. Goblin's music is by no means lightweight, but there's a certain formula that renders it familiar and never difficult to digest. In 1977, the band would score Argento's Suspiria to comparable success; and in 1978, render the same services for George A. Romero's Zombi (US title: Dawn of the Dead). That same year, Goblin would record a final studio album, Il Fatastico Viaggio Del "Bagarozzo" Mark, which featured vocals from Morante. However, steady film work kept the band busy; and despite personnel changes, they continued until the mid-80s, churning out album after album of movie soundtracks.