The Rutles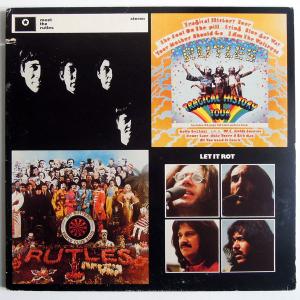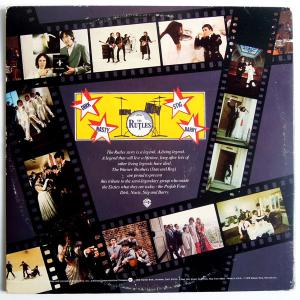 Label:
Warner Bros. Records
Tracklist
A1
Hold My Hand
2:31
A2
Number One
2:50
A3
With A Girl Like You
1:50
A4
I Must Be In Love
2:04
A5
OUCH!
1:49
A6
Living In Hope
2:37
A7
Love Life
2:50
A8
Nevertheless
1:29
B1
Good Times Roll
3:03
B2
Doubleback Alley
2:54
B3
Cheese And Onions
2:37
B4
Another Day
2:09
B5
Piggy In The Middle
4:07
B6
Let's Be Natural
3:23
Credits
John Altman - Arranged By [Brass, Strings]
Tony Cohen - Art Direction
Dennis Hawkings - Artwork
Eric Idle - Artwork [Album Booklet Conceived]
Eric Idle - Artwork [Written By]
Andy Brown - Bass
Basil Pao - Design
Steve James - Engineer
Ricky Fataar - Guitar, Bass, Sitar, Tabla, Vocals
Ollie Halsall - Guitar, Vocals, Keyboards
John Halsey - Percussion, Vocals
David Strickland - Photography By
David Gahr - Photography By [Additional Photos]
Neil Innes - Producer, Guitar, Keyboards, Vocals, Written-By
Notes
A Warner Bros. Recording distributed by WEA Records Ltd. - A Warner communications company.
Recorded at Chappell Studios, London.
Includes a 14 page 12" booklet with the history of the Rutles.
Gatefold sleeve. Some copies have 2.5" circular hype sticker on cover "The Rutles Free Record With This 20-Page Book"
Issued with printed inner sleeve with lyrics and parody album cover photos.
Strawberry Bricks Entry:
The Rutles were a fictional band created by Monty Python member Eric Idle and ex-Bonzo Dog Dooh Dah Band member Neil Innes after The Beatles. The pair conceived the Beatles-eque song "I Must Be In Love" while working on their Rutland Weekend Television series for BBC. The concept gained traction to an hour long film All You Need Is Cash when Saturday Night Live's producer Lorne Michaels and director Gary Weis jumped aboard. With a plethora of guests including George Harrison, Mick Jagger, members of SNL and others, the fictitious documentary paralleled (and parodied) The Beatles career from their rise as the "Pre-Fab Four" from Liverpool through their final appearance on the rooftop of the "Rutle Corps" building. But even more so, The Rutles were a real band, with real musicians, playing Innes's songs he'd written in the style of John Lennon & Paul McCartney. Joining him were Patto drummer John Halsey and guitarist Ollie Halsall, bassist Andy Brown and multi-instrumentalist Ricky Fataar. That's Halsall's guitar and Paul McCartney voice that Idle mimes in the film. Of course, Innes is masterful songwriter, and the soundtrack is chock-full of would-be hits, whether the beat music of "With A Girl Like You," the psychedelia of "Love Life" or silly fun of "Cheese And Onions." The show appeared in March 1978 on NBC in the US and the BBC in the UK. Both Innes and Halsey continue to resurrect the Rutles over the ensuing decades, releasing the Archaeology compilation in 1996 to accompany The Beatles Anthology series.