Samtvogel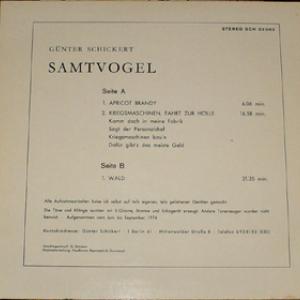 Label:
Not On Label (Günter Schickert Self-released)
Tracklist
A1
Apricot Brandy
6:06
A2
Kriegsmaschinen, Fahrt Zur Hölle
16:58
B
Wald
21:35
Credits
Günter Schickert - Guitar, Vocals, Effects, Composed By, Recorded By, Producer
Notes
Privately-pressed edition of 500 copies. Reissued by Brain in 1975 and 1980.
Recorded from June to September 1974.