Samurai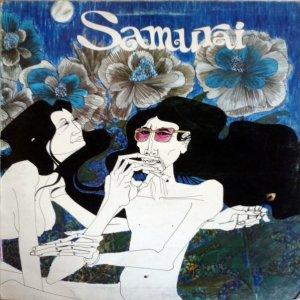 Label:
Greenwich Grammophone Company
Tracklist
A1
Saving It Up For So Long
3:45
A2
More Rain
4:27
A3
Maudie James
4:55
A4
Holy Padlock
4:44
B1
Give A Little Love
3:40
B2
Face In The Mirror
6:44
B3
As I Dried The Tears Away
8:13
Credits
Bass Guitar – John Eaton (5)
Drums – Kenny Beveridge
Electric Guitar, Acoustic Guitar – Tony Edwards (7)
Engineer – Robin Thompson
Painting [Cover Painting] – Victor Meara
Photography By [Inside] – Robin Clifford (2)
Tenor Saxophone, Alto Saxophone, Baritone Saxophone, Flute [Concert] – Don Fay
Tenor Saxophone, Flute [Concert & Alto], Bass Clarinet – Tony Roberts
Vibraphone [Vibes], Drums, Percussion, Producer – Lennie Wright
Vocals, Keyboards, Written-By, Arranged By – Dave Lawson
Notes
Printed By – Robert Stace
Recorded At – Wessex Sound Studios
Strawberry Bricks Entry:
Having rechristened themselves as Samurai, the bulk of Web regrouped for a new album, signing to the Greenwich Gramophone Company. Replacing the departed Tom Harris were two brass players, Don Fay and Tony Roberts, the former having played on Elton John's debut album. Samurai recorded their eponymous album at Wessex Sound with Robin Thompson at the controls. The funky little groove of "Saving It for So Long" starts the album and picks up right were Web's I Spider left off. Dave Lawson's compositions are exemplary, and the additional horns add yet another dimension to the band's jazz-influenced progressive rock. "More Rain" slows a bit, highlighted by Fay's flute and Lawson's plaintive lyrics, while "Maudie James" and "Holy Padlock" feature Lawson's distinct vocal delivery. "Give a Little Love" powers away with Tony Edwards's guitar, and "Face in the Mirror" contains a fury reminiscent of Van der Graaf Generator. The final track, "As I Dried Away the Tears," again offers everything Samurai has to offer: superb musicianship, precise execution and expert arrangement; it's a wonder why the album didn't set the charts on fire. But their record label was short-lived, and to obscurity Samurai would remain. Lawson then joined Greenslade, where he would remain for that band's course; but little if anything would be heard of the other members, save Roberts who did extensive session work. Following his tenure in Greenslade, Lawson would work with many others, including Stackridge and Roy Harper, before launching a career in sound design.