In Search Of The Lost Chord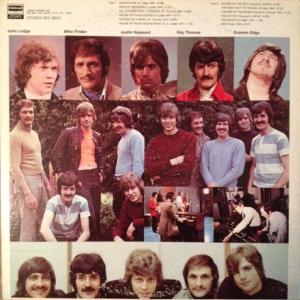 Tracklist
A1
Departure
A2
Ride My See-Saw
A3
Dr. Livingstone, I Presume
A4
House Of Four Doors
A5
Legend Of A Mind
A6
House Of Four Doors (Part Two)
B1
Voices In The Sky
B2
The Best Way To Travel
B3
Visions Of Paradise
B4
The Actor
B5
The Word
B6
OM
Credits
Artwork By [Cover] - Philip Travers
Bass Guitar, Cello, Tambourine, Snare, Acoustic Guitar, Vocals - John Lodge
Drums, Timpani, Tambourine, Tabla, Piano - Graeme Edge
Flute [C, Alto], Soprano Saxophone, Vocals - Ray Thomas
Mellotron, Piano, Harpsichord, Cello, Acoustic Guitar, Bass Guitar, Autoharp - Mike Pinder
Producer - Tony Clarke
Twelve-string Guitar, Acoustic Guitar, Electric Guitar, Sitar, Tabla, Piano, Mellotron, Bass Guitar, Harpsichord, Percussion, Vocals - Justin Hayward
Written-By - Graeme Edge
Written-By - John Lodge
Written-By - Justin Hayward
Written-By - Mike Pinder
Written-By - Ray Thomas
Notes
Released in a gatefold cover on a red and white DSS (Deramic Sound System) Deram label.
Strawberry Bricks Entry:
If The Moody Blues' last album was a little hoity-toity, never mind, because they let it all hang out in stunning psychedelic fashion on In Search Of The Lost Chord. Released in July 1968, the band's second record fully exploits the then-current counter-culture with lyrical themes exploring inner and outer space, both spiritual and terrestrial. "Ride My See-Saw" is classic Moodies, with great guitar licks from Justin Hayward. Ray Thomas's "Dr. Livingstone, I Presume" is a bouncy, Beatlesque number, while John Lodge's "House of Four Doors" reminds us that this is still 60s music. But Thomas's "Legend of a Mind" is the album's centerpiece. Mike Pinder's pitch-shifted Mellotron is completely effective, providing the sonic cue to an acid trip, while Thomas's flute solo would become legendary when performed live. Pinder's "The Best Way to Travel" continues the psychedelic goodness, while "Visions of Paradise" invokes a folksy vibe, with a great vocal from Hayward. Graeme Edge offers a couple of spoken word pieces, for good measure. The closing "OM" uses Indian sitar, tambura and tabla to great effect. All-in-all, the Moodies make the most of the studio and their musical abilities in creating perhaps their finest work. Again, Tony Clarke and engineer Derek Varnals provide the album's production, creating a soundscape that fully exploits the then-current stereo high fidelity-the album still sounds fabulous. Packaged with a dramatic cover painting from Phil Travers, the album rose to No. 5 in the UK, though only reaching the US No. 23. The Moody Blues would repeat this formula to continual success, including the excellent A Question Of Balance album in 1970. They took a rest in 1973, next releasing a plethora of solo albums, some good, some so-so, only to return at the end of the decade for more chart-climbing success, but in a more musically mainstream manner.