Second Album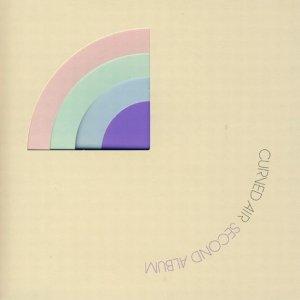 Label:
Warner Bros. Records
Tracklist
A1
Young Mother
5:55
A2
Back Street Luv
3:38
A3
Jumbo
4:11
A4
You Know
4:11
A5
Puppets
5:26
B1
Everdance
3:06
B2
Bright Summer's Day '68
2:52
B3
Piece Of Mind
12:54
Credits
Bass Guitar – Ian Eyre
Design – John Kosh
Drums – Florian Pilkington-Miksa
Electronics [By Courtesy Of] – Peter Zinovieff
Engineer – Colin Caldwell
Guitar, Keyboards, Synthesizer [Vcs3] – Francis Monkman
Photography – Peter Howe
Piano – Darryl Way (tracks: 5)
Producer – Colin Caldwell, Curved Air
Vocals – Sonja Kristina
Vocals, Violin [Electric] – Darryl Way
Notes
Recorded at Island Stidios & Morgan Studios, London.
Strawberry Bricks Entry:
Infinitely more rewarding than their debut was Curved Air's aptly titled Second Album. Bassist Ian Eyre replaced Robert Martin, the first in what would become an all-too-frequent occurrence for the band. The considerable musical talents of the classically-trained violinist Darryl Way and keyboardist Francis Monkman finally gel here, even though their compositions split the album's sides. Way's "Young Mother" (with lyrics from Sonja Kristina Linwood) opens and features some excellent synthesizer work from Monkman. The funky "Back Street Luv" b/w "Everdance" was a hit for the band the previous summer, reaching No. 5 in the UK. Kristina's voice is unique for rock, let alone progressive rock: It's rather formal and always up in the mix, something Renaissance would replicate a few years later. Both "Jumbo" and "Puppets" shift mood to understated and melancholic; the former in classical fashion, its melody accompanied by strings and piano, and the latter with Mellotron and a curiously metronomic beat. Monkman's "Everdance" is a refreshing change, with Way's violin well-integrated into the song, while "Piece of Mind" finally delivers the fusion of rock and classics the band initially promised: It's a veritable epic combining both the experimental and instrumental flair of Curved Air across its near thirteen-minutes. The album was well-received in the UK, perhaps this time (without picture disc) more genuinely so, reaching No. 11 on the charts. On the album's promotional tour, Barry De Souza subbed for drummer Florian Pilkington-Miksa (who had taken ill), including the televised Beat Club session from Radio Bremen in Germany.