Softs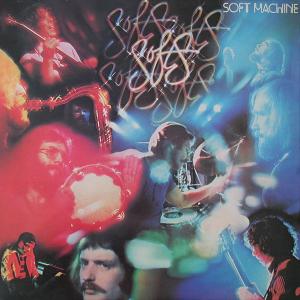 Tracklist
A1
Aubade
A2
The Tale Of Taliesin
A3
Ban-Ban Caliban
Notes:

Synthesizer - Mike Ratledge

A4
Song Of Aeolus
Notes:

Synthesizer - Mike Ratledge

B1
Out Of Season
B2
Second Bundle
B3
Kayoo
Notes:

Written-By - John Marshall

B4
The Camden Tandem
Notes:

Written-By - John Etheridge
Written-By - John Marshall

B5
Nexus
B6
One Over The Eight
Notes:

Written-By - Alan Wakeman
Written-By - John Etheridge
Written-By - John Marshall
Written-By - Roy Babbington

B7
Etika
Notes:

Written-By - John Etheridge
Credits
Acoustic Guitar, Electric Guitar - John Etheridge
Art Direction - Peter Shepherd
Artwork By [Lettering] - Brian Palmer
Bass - Roy Babbington
Drums, Percussion - John Marshall
Engineer - John Leckie
Executive Producer, Concept By [Design Concept] - Sean Murphy (10)
Photography - Guido Harari
Piano, Electric Piano, Piano [Pianette], Synthesizer [String, Minimoog], Orchestrated By - Karl Jenkins
Producer - Soft Machine
Soprano Saxophone, Tenor Saxophone - Alan Wakeman
Technician [Tape Operator] - Pat Stapley
Written-By - Karl Jenkins
Notes
Additional number on sleeve: OC 062 · 97761
Recorded at Abbey Road Recording Studios, Spring 1976.
Photography - (Milano).
Artwork - Michael Mann Studios, London.
Track B6: Sleeve credits Alan Wakeman as writer for this track, but vinyl label does not.
(P) 1976 Soft Machine Music Ltd.
All Titles (C) of Soft Machine Pub. Co. Ltd. MCPS.
Harvest.
EMI Records Ltd. Hayes, Middlesex, England.
Made and printed in Great Britain.
7607 TM Garrod & Lofthouse Ltd.