Spectral Mornings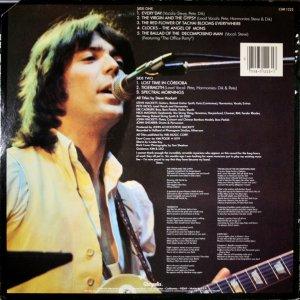 Tracklist
A1
Every Day
6:09
Notes:

Vocals - Dik Cadbury
Vocals - Pete Hicks
Vocals - Steve Hackett

A2
The Virgin And The Gypsy
4:28
Notes:

Vocals [Harmonies] - Dik Cadbury
Vocals [Harmonies] - Steve Hackett
Vocals [Lead] - Pete Hicks

A3
The Red Flower Of Tachai Blooms Everywhere
2:05
A4
Clocks - The Angel Of Mons
4:14
A5
The Ballad Of The Decomposing Man (Featuring "The Office Party")
3:46
Notes:

Vocals - Steve Hackett

B1
Lost Time In Córdoba
4:05
B2
Tigermoth
7:30
Notes:

Vocals [Harmonies] - Dik Cadbury
Vocals [Lead & Harmonies] - Pete Hicks

B3
Spectral Mornings
6:30
Credits
Artwork By [Front Cover] - Kim Poor
Artwork By [Sleeve] - Cooke Key
Bass [& Bass Pedals], Violin, Vocals - Dik Cadbury
Drums, Percussion - John Shearer
Flute [Concert & Chinese Bamboo], Bass [Pedals] - John Hackett
Guitar, Synthesizer [Roland Guitar Synth], Koto [Cantonese], Harmonica, Vocals, Other [Extras], Written-by, Producer - Steve Hackett
Keyboards, Synthesizer [Vox String Thing, Novatron, Rmi, Mini Moog, Roland String Synth, Sh2000], Harpsichord, Clavinet, Electric Piano [Fender Rhodes] - Nick Magnus
Photography [Back Cover] - Tom Sheehan
Producer - John Acock
Vocals [Lead & Harmonies] - Pete Hicks
Notes
Recorded in Holland at Phonogram Studios, Hilversum.
Strawberry Bricks Entry:
Following the release of his last album, Steve Hackett assembled a touring band that included his brother John on flute and guitar, John Shearer on drums and Pete Hicks on vocals. He rounded out the lineup with Nick Magnus on keyboards and Dik Cadbury on bass. The band then shipped off to Holland to record Hackett's third album, Spectral Mornings, which was again co-produced with John Acock. With its bright chorus, "Every Day" kicks things off (and includes a musical quote from Beethoven's 9th Symphony, "Ode to Joy"), finding the band's performance lively and Hackett soloing away on guitar. The album is more instrumental than vocal, again offering a great deal of musical diversity. Hicks's voice is certainly up to task, though often soaked in thick harmony. "The Virgin and the Gypsy" is gentle and acoustic, while the following "The Red Flowers of Tachai Blooms Everywhere" is (not surprisingly) oriental-inspired. "Clocks - The Angel of Mons" ticks away with abandon before erupting into a drum-led frenzy, while "Lost Time in Cordoba" is the nylon-string retread to which Hackett would often return. The first half of "Tigermoth" offers some downright heavy dynamics (with Hackett using a Roland guitar synthesizer), while the second half is acoustic. Another instrumental, the title track "Spectral Mornings" wraps things up; it's plain evidence of Hackett's lyrical melodies and guitar playing, and straight out of the book of Genesis. Not that that's a problem; Hackett was, after all, their guitarist for many years. The album was a genuine success, reaching No. 22 on the UK charts and affording Hackett a headlining spot at that year's Reading Festival. The record also featured cover art by Hackett's partner, Brazilian artist Kim Poor.