Stand Up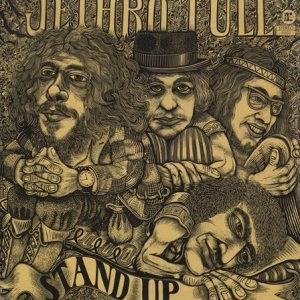 Tracklist
A1
A New Day Yesterday
4:08
A2
Jeffery Goes To Leicester Square
2:03
A3
Bourée
3:45
A4
Back To The Family
3:45
A5
Look Into The Sun
4:18
B1
Nothing Is Easy
4:20
B2
Fat Man
2:48
B3
We Used To Know
3:55
B4
Reasons For Waiting
4:00
Notes:

Arranged By [Strings] - David Palmer

B5
For A Thousand Mothers
4:32
Credits
Acoustic Guitar - Ian Anderson
Artwork By - Jimmy Grashow
Bass - Glenn Cornick
Composed By - Ian Anderson
Drums - Clive Bunker
Flute - Ian Anderson
Flute - Martin Barre
Guitar - Martin Barre
Lead Vocals - Ian Anderson
Producer - Ian Anderson
Producer - Terry Ellis
Notes
When gatefold sleeve is opened, an cut-out of the band pops up like those old pop-up books.
Strawberry Bricks Entry:
By the time Jethro Tull got around to releasing their strong second effort, Martin Barre had joined on guitar. His addition was integral to the evolution of the band as his guitar playing would prove sympathetic to their burgeoning progressive style. Written by Ian Anderson to appease management's desire for a single, "Living in the Past" b/w "Driving Song" saw release in May. It soared up the UK charts, reaching No. 3. The album followed with even greater results. Stand Up features all original compositions from Anderson, except for a spirited interpretation of J.S. Bach's "Bourrée in E minor," here titled "Bourée." Although the blues influence is still apparent on tracks like "Nothing Is Easy" and "A New Day Yesterday," Anderson's original songwriting style was becoming more prominent; "Look into The Sun" and "Reasons for Waiting" adopt an acoustic, though certainly not folk approach, that would become one of his signatures. "Jeffrey Goes to Leicester Square" and "Fat Man" follow suit. The band is particularly strong throughout, with Clive Bunker's drumming an overlooked asset. "For A Thousand Mothers" succinctly closes. The album rose to No. 1 in the UK, and made a Top 20 appearance in the US on the heels of their first tour of America, where they would support Led Zeppelin and Fleetwood Mac. The first unqualified mainstream success of progressive rock, the album remains one of the finest of any era.