The Story Of i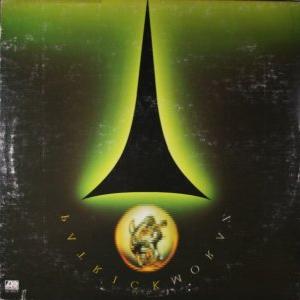 Tracklist
A1
Impact
3:28
A2
Warmer Hands
3:31
A3
The Storm
0:53
A4
Cachaça (Baião)
4:09
A5
Intermezzo
2:49
A6
Indoors
3:44
A7
Best Years Of Our Lives
4:01
B1
Descent
1:43
B2
Incantation (Procession)
1:52
B3
Dancing Now
4:38
B4
Impressions (The Dream)
2:48
B5
Like A Child In Disguise
4:05
B6
Rise And Fall
5:34
B7
Symphony In The Space
3:01
Credits
Chris "Snoopy" Penycate - Engineer
Jean Ristori - Engineer
John McBurnie - Lyrics By [English]
Patrick Moraz - Producer, Composed By, Arranged By, Conductor, Orchestrated By, Lyrics By [French], Other [Original Story By]
Acoustic Guitar, Electric Guitar [Additional] – Auguste De Anthony
Bass [Electric] – Jeff Berlin
Cello, Double Bass – Jean Ristori
Drums – Alphonse Mouzon (tracks: 1 - 7), Andy Newmark (tracks: 8 - 14)
Electric Guitar, Guitar [Lead], Guitar [Rhythm] – Ray Gomez
Gong, Tom Tom – Jean-Luc Bourgeois
Performer – Children Of Morat, Switzerland, The, Percussionists Of Rio De Janeiro, The
Tap Dance, Castanets – Rene Moraz
Timpani, Percussion [Assorted] – Phillipe Staehli
Vocals – John McBurnie, Vivienne McAuliffe
Vocals [French], Vocals [Additional] – Veronique Mueller
Grand Piano, Organ [Hammond C3], Synthesizer [Mini Moog, Micro Moog, Poly Moog, ARP 2600, Pro-Soloist, Axxe Sythesizers And String Ensemble, AKS Sythi A, String Thing, Pace Drum], Mellotron [Mks. I & II], Electric Piano [Fender Rhodes 88], Clavinet [D6], Keyboards [Taurus Bass Pedals, Orchestron B, Supersonic Vocaltron, DPM Digital Sequencer, Electronic Slinky], Harpsichord, Marimba [Marimbaphone], Gong [Paiste], Cymbal [Orchestral], Percussion [Assorted], Alphorn [Alpine Horn] – Patrick Moraz
Notes
All tracks starting with "i" written in lowercase on the label. "i" in the album title is not the letter, it's the symbol seen on the album cover.
Gatefold sleeve with lyrics + a sheet in handwriting explaining the musical layout/arrangements of the tracks. "Although this concept album is one piece of music and plays continuously throughout, each side has been divided into 7 tracks in order to help the listener, interested by this guide, to find his way into the world of i".
The full title of album appears displayed on the inside of the gatefold sleeve.
Recorded Autumn '75 in 'Aquarius' Studio, Geneva. (Sessions in Brazil, 16th and 17th August '75).
Side 1 total time: 22:35
Side 2 total time: 23:47
All tracks starting with "i" written in lowercase.
℗ © 1976 Atlantic Recording Corporation.
Printed in the U.S.A.
Strawberry Bricks Entry:
Following the Relayer tour, Yes' keyboardist Patrick Moraz teamed up with two old friends and Mainhorse compatriots—Jean Ristori as engineer and Jean de Antoni on guitar—and further assembled an impressive cast of musicians for his solo album. John McBurnie of Jackson Heights wrote the album's lyrics and sang vocals, while drum duties were split between Alphonse Mouzon (side one) and Andy Newmark (side two). Jeff Berlin provided bass, while Ray Gomez was the second guitarist. The album tells the story of a tower where people can enact their own fantasies inside; though ultimately, it's a trap: The liner notes offer the play-by-play. All that aside, it's an amazing record of ethno-fusion-rock, or whatever you want to call it. Obviously, there's no shortage of Moraz's virtuoso keyboards, but two days in Brazil also provided percussion overdubs that give The Story of I its unique character. McBurnie's vocals on "Warmer Hands" and "Indoors" highlight the pop sensibility within the record, though not to be lost to the thick manic fusion underneath; note the frenetic soloing of the latter! The groove of "Incantation (Procession)" is hypnotic and the palette of sounds nonpareil. The album was meant to be played as a single piece of music, and I must agree: It works best as a whole. Moraz finished touring commitments with Yes in 1976; but by the end of the year, when the group convened in Switzerland to record their next album, Moraz got the boot. He was quick to recover, however, releasing his next album Out In The Sun in 1977, and after moving to Brazil, the Latin-flavored Patrick Moraz appeared in 1978. It was his last for Charisma. But as luck would have it, he then landed work as touring keyboardist for the Moody Blues. Splitting releases with Carrere Records-including the excellent Future Memories-in France and the American PVC label, Moraz would enjoy a prolific solo career well into the 80s, which also included two albums on the EG label with Bill Bruford.