Synthesist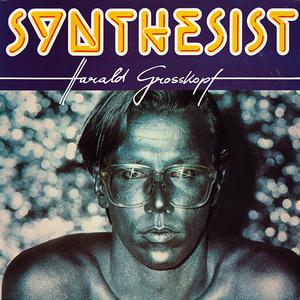 Label:
Sky Records, Sky Records
Catalog#:
Sky 043, sky 043
Tracklist
A1
So Weit, So Gut
5:24
A2
B. Aldrian
4:51
A3
Emphasis
4:55
A4
Synthesist
7:34
Notes:

Udo Hanten - Synthesizer [Electric Strings], Soloist, Synthesizer [Second Voice]

B1
1847 - Earth
6:43
B2
Trauma
6:37
B3
Transcendental Overdrive
5:03
B4
Tai Ki
4:09
Credits
Harald Grosskopf - Composed By, Arranged By, Performer
Siegfried Kattler - Design
SST - Mastered By
Udo Hanten - Performer [Space Sounds Played By]
Detlef Maugsch - Photography By
Harald Grosskopf - Producer
Eberhard Panne - Recorded By
Harald Grosskopf - Recorded By
Notes
p. 1980
Recorded at Obentraut Studio - Berlin
Studio Roma Berlin and Panne-Paulsen Studio - Frankfurt
A Peter Wirths Production
Strawberry Bricks Entry:
Harald Grosskopf first appeared early in the timeline as the drummer for Wallenstein, playing on their first four albums. He then performed with Klaus Schulze off and on in the mid-70s, before joining forces with Manuel Göttsching and Lüül Ulbrich in Ashra in 1978. Grosskopf got the opportunity from Sky Records to record his first solo album, Synthesist, in 1980. With only a Mini-Moog, sequencer and a somewhat legendary eight-track tape machine, he retreated to the Krefeld home of Udo Hanten (one half of the soon-to-be electronic group, You). The shimmering "So Weit, So Gut" ("So Far, So Good") opens the album with a punch. Aided by Hanten, it's as fine an example of electronic rock as any. Grosskopf's metronomic beat locks in sync perfectly with the sequencer, providing a trance-inducing groove. "B. Aldrian," dedicated to the astronaut, undulates in washes of electronic keyboards; while "Emphapsis" and "Synthesist" slow the beat, and approach a more traditional song-form. "Transcendental Overdrive" contains one wicked (and early) break-beat, the live drums frantically in step with the machines. But whether creating the darker vibes of "1847-Earth" or the more ethereal bliss of "Trauma," Grosskopf is ever proficient at his craft, evoking the appropriate mood and texture. While he may have taken good notes from his mentors, Grosskopf comes out of the gate with a classic album of electronic music. Adorned with an iconic cover, the album is an absolute must-have of the genre; and has since rightly attained cult-classic status. By the album's release though, Grosskopf had moved on to other pastures; namely, providing drums for German New-Waver Lilli Berlin. A final solo album for Sky would appear in 1986.