A Tab In The Ocean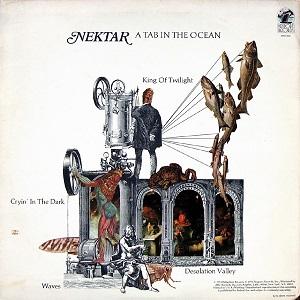 Tracklist
A
A Tab In The Ocean
17:15
B1
Desolation Valley / Waves
8:36
B2
Crying In The Dark / King Of Twilight
10:28
Credits
Bass, Vocals - Derek Moore
Design [Cover Conception, Frontcoverpainting, Backside Collage], Photography [Conception] - Helmut Wenske
Drums, Percussion - Ron Howden
Engineer - Dieter Dierks
Guitar, Lead Vocals - Roye Albrighton
Keyboards, Vocals - Allan Freeman
Lighting [Lights] - Mick Brocket
Photography [The Group] - Steve Schöppler
Photography [Under The Water] - Uwe Behrendt
Producer - Peter Hauke
Producer, Written-By - Nektar
Notes
Recorded Oct. 1972 at Dierks Studios.
Remixed for US release on Passport 1976.
Strawberry Bricks Entry:
Nektar was a group of British expatriates that, like many bands during the mid-60s, made a living by working and touring in Europe. Initially, bassist Derek "Mo" Moore, drummer Ron Howden and keyboardist Allan "Taff" Freeman formed a band called Prophesy. By 1969, with guitarist and vocalist Roye Albrighton on board, the band changed their name to Nektar. They made Hamburg their base, and signed to Peter Hauke's Bacillus label. Released in 1971, their debut album, Journey To The Centre Of The Eye, took an anti-nuclear stance; and not surprisingly, as it was rooted in 60s psychedelia. The band then moved into more progressive territory for their second record, A Tab In The Ocean. The album's side-long title track pounds right through its continually-evolving themes over a brisk 16 minutes. Throughout, the rhythm section of Moore and Howden provides a steady foundation for the music; their shifts in tempo are quite deceptive. Albrighton's guitar is always out front: "Desolation Valley/Waves" kicks off the second side, which again plays continuously. Both feature some of the jazzy subtleties of the Nektar sound. "Cryin' in The Dark" gets a lot heavier though, incorporating some excellent interplay between the bandmates, while the churning riff and vocal harmonies of "King of Twilight" represent more straightforward rock. The album's original mix, courtesy of Dieter Dierks, is a classic example of heavy rock from the era. In February of 1973, the band recorded a "live in the studio" album, Sounds Like This. Less polished than the previous effort, it had more of a hard rock jam-band feel to it. Shortly thereafter, Nektar launched their first tour of the UK in June, with Welsh rockers Man.