Tarkus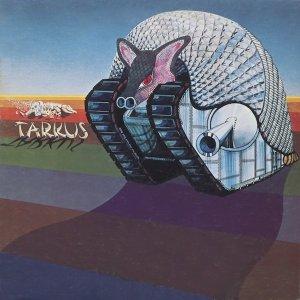 Artist:
Emerson, Lake & Palmer
Tracklist
A1
Eruption
2:43
A2
Stones Of Years
3:43
A3
Iconoclast
1:16
A4
Mass
3:09
A5
Manticore
1:49
A6
Battlefield
3:57
A7
Aquatarkus
3:54
B1
Jeremy Bender
1:41
B2
Bitches Crystal
3:54
B3
The Only Way (Hymn)
3:50
B4
Infinite Space (Conclusion)
3:18
B5
A Time And A Place
3:00
B6
Are You Ready Eddy?
2:09
Credits
Arranged By, Directed By - Emerson, Lake & Palmer
Artwork By [Paintings] - William Neal
Drums, Percussion [Assorted] - Carl Palmer
Engineer - Eddy Offord
Organ [Hammond], Organ [St. Marks Church], Piano, Celesta, Synthesizer [Moog] - Keith Emerson
Producer - Greg Lake
Vocals, Bass, Acoustic Guitar, Electric Guitar - Greg Lake
Written-By - Carl Palmer
Written-By - Greg Lake
Written-By - Keith Emerson
Notes
Recorded at Advision
B3 - Themes used in intro, and bridge only - Tocata in F and Prelude VI, Bach
This edition has a pink tracklist on the uppper left-hand side of the back of the jacket.
The cat # on the center label is SC 9900
Strawberry Bricks Entry:
If Emerson, Lake & Palmer had earned a "flash" rock reputation through their live appearances, their second album Tarkus offered up more than something in their defense. Encompassing the first side of the album, the seven-part "Tarkus," excellently depicted on the album sleeve by William Neal, relates a story of reverse evolution, in a battle between a mythical Manticore and a tank/armadillo beast Tarkus. More importantly, it's where ELP-and Keith Emerson in particular-buckled down for some serious composition; what they present is nothing short of impressive. "Tarkus" is fierce, engaging, and perhaps best of all, relentless. With no slow middle sections or acoustic respite, the track presents the full-on power of hammering organ, bass and drum through to its end, with a modicum of electric guitar and synthesizer thrown in for good measure. By contrast, the second side offers more discrete (and shorter) material. A honky-tonk piano kicks off the cross-dressing tale of "Jeremy Bender," which is perhaps another cousin-track to Syd Barrett's "Arnold Layne." "Bitches Crystal" hints at things to come, while "A Time and a Place" is the heaviest organ rock. Greg Lake provides a passionate, even Crimson-esque, vocal to the credited J.S. Bach adaptation "The Only Way (Hymn);" though the hypnotic piano riff of "Infinite Space (Conclusion)" submits a welcome moment of restraint-and jazz. Eddie "Are you ready?" Offord engineered the record, while Lake produced; and as usual, the pair achieved a result that nears the gold standard for the era. The album gave ELP their first and only No. 1 record in the UK and finally broke them into the US Top 10.