Their Satanic Majesties Request
by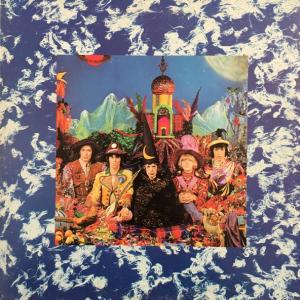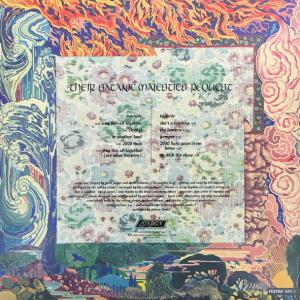 Artist:
The Rolling Stones
Tracklist
A1
Sing This All Together
3:46
A2
Citadel
2:50
A3
In Another Land
3:13
Notes:

Bill Wyman - Vocals, Written-By

A4
2000 Man
3:05
A5
Sing This All Together (See What Happens)
7:58
B1
She's A Rainbow
4:35
Notes:

John Paul Jones - Strings

B2
The Lantern
4:24
B3
Gomper
5:12
B4
2000 Light Years From Home
4:45
B5
On With The Show
3:40
Credits
Artchie - Artwork [Cover Photo Built By]
Michael Cooper - Artwork [Cover Photo Built By]
The Rolling Stones - Artwork [Cover Photo Built By]
Michael Cooper - Design [Album], Photography By
Glyn Johns - Engineer
Tony Meeuwissen - Illustration [Back Cover]
K (52) - Mastered By
Nicky Hopkins - Piano
The Rolling Stones - Producer, Arranged By
Keith Richards - Vocals
Mick Jagger - Vocals
Jagger-Richards - Written-By
Notes
Released in a gatefold cover with a special ''psychedelic'' printed inner sleeve.
Strawberry Bricks Entry:
Even "traditionalists" like The Rolling Stones werenot impervious to the wave of psychedelia that swept London in 1967. Unfortunately for the Stones, this also included numerous drug busts, beginning with Keith Richards's home in Redlands, Sussex in February, and later, Brian Jones in May. The group managed to tour Europe in late March and April, returning to London to deal with legal issues, and the recording of their next album. Sessions were protracted over the next six months, to the point that original manager and producer Andrew Loog Oldham took his leave from the band. Released in December 1967, Their Satanic Majesties Request is an album flush with experimentation: every device-from a song's composition and arrangement, to the instrumentation the band utilizes on each track, to the recording techniques employed-was pushed to the limits of their ability, all to further the Stones' progression of sound. Of course, whether it worked or not is the album's ultimate judgement; however, poor-man's Sgt. Pepper it certainly is not! Session man Nicky Hopkins guests on the album, judiciously adding his keyboard talents throughout the record. The melody of "Sing This All Together" begins the record, and is simply infectious, though its arrangement is scattershot; "Citadel" goes for heavy rock (successfully), while the harpsichord and verse of "In Another Land" are reminiscent of Pink Floyd. The near eight-minute "Sing This All Together (See What Happens)" is either the epic psychedelic jam, or a drug-addled attempt at one. The jagged string arrangement of "She's A Rainbow," courtesy of John Paul Jones, offers an uncomfortable edge to an otherwise excellent tune. "Gomper" rides over a tabla rhythm and more of Hopkins's keyboards as it drifts off into a psychedelic trance, followed by the fierce Mellotron of "2000 Light Years From Home." The album rose to No. 3 in the UK and No. 2 in the US, but was mostly dismissed in the press. Whatever the verdict, the Stones would never travel this path again. Returning to their purist rock 'n' roll roots, they would soldier on for decades, earning the honor of "the world's greatest rock 'n' roll band" along the way.