Thick As A Brick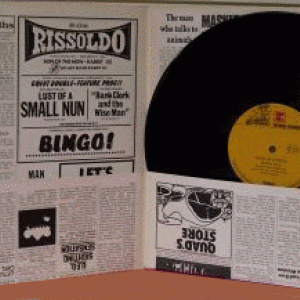 Tracklist
A
Thick As A Brick
22:45
B
Thick As A Brick
21:05
Credits
Written-By - Gerald Bostock
Written-By - Ian Anderson
Arranged By – Jethro Tull
Bass – Jeffrey Hammond-Hammond
Drums, Timpani, Percussion – Barriemore Barlow
Flute, Acoustic Guitar, Vocals, Saxophone, Trumpet – Ian Anderson
Guitar [Electric], Featuring [Lute] – Martin Barre
Organ, Piano, Harpsichord – John Evan
Notes
Included 12 page "newspaper".
Strawberry Bricks Entry:
In protest over the misconception of Aqualung (he claimed it wasn't a concept album), Ian Anderson delivered what might be the mother of all concept albums: the wryly-titled Thick As A Brick. Based on a "poem written by eight-year-old Gerald Bostock and set to musical accompaniment by rock group Jethro Tull," the album contains a single "song" spanning both sides of the vinyl. So much for the approach pioneered on Aqualung! This isn't a bunch of discrete sections strung together either; the work has considerable continuity and consistency over its sides—certainly a credit to Anderson's compositional ability-and the arrangement skill and precise ensemble playing of the band. Though former Blackpool mate Barriemore Barlow was the newcomer on drums, the album presents a core of musicians who had coalesced into a band. John Evan shines through on the Hammond organ; it's not an instrument that immediately comes to mind with the band, but no other screams "prog" louder. Of course, all the other stock Tull sounds appear, with no shortage of flute and acoustic passages. Just as important, Anderson's penchant for writing a memorable melody doesn't get lost in the massive composition: The main theme (Edit #1), with its killer hook and wry lyric, is an instant classic. The album's gatefold sported a tabloid newspaper, The St. Cleve Chronicle, which arguably remains the most elaborate record sleeve ever printed. The album immediately rose to No. 5 in the UK and No. 1 in the US. Regardless of its intent or delivery, the response to the album was extraordinary and certainly a testament to the times in which it was created. Imagine, one 40-minute-plus piece of music topping the charts. TAAB was and remains a rock milestone.