Three Friends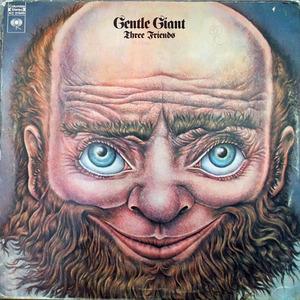 Tracklist
A1
Prologue
6:12
A2
Schooldays
7:35
A3
Working All Day
5:10
B1
Peel The Paint
7:28
B2
Mister Class And Quality
3:23
B3
Three Friends
5:30
Credits
Bass, Violin, Twelve-string Guitar, Vocals – Ray Shulman
Design [Sleeve Design] – Rick Breach
Drums – Malcolm Mortimore
Engineer – Martin Rushent
Guitar, Percussion – Gary Green
Keyboards, Vibraphone, Percussion, Synthesizer [Moog], Vocals – Kerry Minnear
Producer – Gentle Giant
Saxophone, Vocals – Philip Shulman
Vocals – Derek Shulman
Voice [Boy's Voice] – Calvin Shulman (tracks: A2)
Written-By – Gentle Giant
Notes
Released in a gatefold cover.
Strawberry Bricks Entry:
For their third album, Gentle Giant made their first foray into the realm of the concept album; and, as such, it's one of the band's most cohesive and satisfying records. As the title suggests, Three Friends does indeed revolve around the lives of three childhood friends. All of the Giant's cleverness that one may have "acquired a taste" for on previous records is present here; yet more direct and rock steady, the six compositions reflect a bluesy, if not ballsy, performance. The rollicking "Prologue" opens, its main theme punctuated to great effect with a fat saw-tooth Moog line. In contrast, the ensuing "Schooldays" is beyond inventive, whether it's the syncopated interplay between vibes, vocals and guitar on the verse or the gorgeous piano and Mellotron in the middle section; Kerry Minnear's voice is the perfect complement for the track. Accordingly, "Working All Day" gets a little dirty; the band adds a horn section over the laidback rhythm, and the heavy breakdown features a great organ solo from Minnear. The second side ambles before exploding into the giant rocking riff of "Peel the Paint," finally digressing into a mess of drums and echo guitar (not that I'm complaining); the band bounces right back with the snappy "Mister Class and Quality?" Underneath Minnear's hard-driven organ, the track seamlessly glides into the symphonic refrain of "Three Friends." Drummer Malcolm Mortimore had joined for the album and an ensuing European tour supporting Jethro Tull; however, his time in the band was cut short due to a motorcycle accident. Further tour commitments forced the band to quickly find a replacement. The album was the first of two released in the US on Columbia Records, and with Martin Rushent producing.