Tommy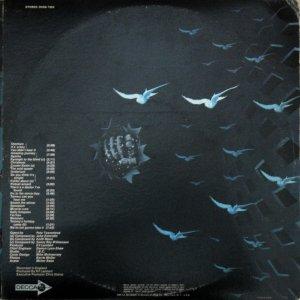 Tracklist
A1
Overture / It's A Boy
5:58
A2
You Didn't Hear It
2:48
A3
Amazing Journey / Sparks
7:09
A4
Eyesight To The Blind
2:11
Notes:

Composed By - Sonny Boy Williamson

B1
Christmas
4:31
B2
Cousin Kevin
4:03
Notes:

Composed By - John Entwistle

B3
The Acid Queen
3:33
B4
Underture
9:59
C1
Do You Think It's Alright? / Fiddle About
1:51
Notes:

Composed By [Fiddle About] - John Entwistle

C2
Pinball Wizard
3:00
C3
There's A Doctor I Found
0:23
C4
Go To The Mirror Boy
3:46
C5
Tommy Can You Hear Me?
1:34
C6
Smash The Mirror
1:32
C7
Sensation
2:24
D1
Miracle Cure
0:11
D2
Sally Simpson
4:08
D3
I'm Free
2:39
D4
Welcome
4:30
D5
Tommy's Holiday Camp
1:01
Notes:

Composed By - Keith Moon

D6
We're Not Gonna Take It
7:02
Credits
Artwork By [Cover Design] - Mike McInnerney
Engineer [Chief] - Damon Lyon-Shaw
Executive Producer - Chris Stamp
Featuring [Opera By] - Pete Townshend
Other [Avatar] - Meher Baba
Photography - Barrie Meller
Producer - Kit Lambert
Notes
Recorded in England.
Studio I.B.C.
Triple gatefold sleeve that include a 12 page colour booklet.
Strawberry Bricks Entry:
By the time of their 1969 release, The Who had established themselves as one of England's premier live attractions. But on vinyl, they remained largely a singles band, save the ten-minute "A Quick One While He's Away" from A Quick One (Happy Jack in the US). At the prodding of manager Kit Lambert (and under the influence of both Arthur Brown and The Pretty Things), Pete Townshend penned his mammoth "rock opera." Over its four sides of vinyl, Tommy traces a war child's tortured adolescence to messiah-like rise and fall via the spiritual vehicle of pinball-a far cry from moonbeams or crimson kings-but equally audacious! Regardless, the album is ripe with Townshend's genius; from ready-made singles, to major chord anthems, the album retains a genuine charm that carries the work from start to finish. The Who's spirited performance is within, but never foremost. The songs come first, which sets The Who apart from most progressive bands of the era; though musically, the instrumental "Sparks" is a technical highlight. Of course, the album was a huge commercial success, landing in the Top 5 on both sides of the Atlantic, along with a massive hit single in "Pinball Wizard" b/w "Dogs Part Two." Live presentations by The Who were mainly truncated versions, although Townshend did re-record the work with the London Symphony Orchestra and some of London's rock elite (Sandy Denny, Steve Winwood, Maggie Bell and Ringo Starr) in 1972. All would be eclipsed by the release of Ken Russell's star-studded film and soundtrack in 1975. Unfortunately, this would become what most people would remember of Tommy: an arrant extravaganza. Townshend would attempt two follow-ups to the rock opera, the abandoned "Lighthouse" session that resulted in the Who's Next album and, in 1973, and a true successor in the mod epic, Quadrophenia.