Tree In Fish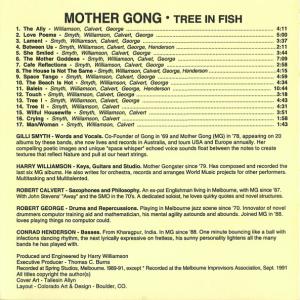 Tracklist
1
The Ally
4:11
Notes:

Harry Williamson - Composed By
Robert Calvert - Composed By
Robert George - Composed By

2
Love Poems
5:00
Notes:

Gilli Smyth - Composed By
Harry Williamson - Composed By
Robert Calvert - Composed By
Robert George - Composed By

3
Lament
3:37
Notes:

Gilli Smyth - Composed By
Harry Williamson - Composed By
Robert Calvert - Composed By
Robert George - Composed By

4
Between Us
2:11
Notes:

Conrad Henderson - Composed By
Gilli Smyth - Composed By
Harry Williamson - Composed By
Robert Calvert - Composed By
Robert George - Composed By
Daevid Allen - Lyrics By

5
She Smiled
3:44
Notes:

Gilli Smyth - Composed By
Harry Williamson - Composed By
Robert Calvert - Composed By
Robert George - Composed By

6
The Mother Goddess
7:09
Notes:

Gilli Smyth - Composed By
Harry Williamson - Composed By
Robert Calvert - Composed By
Robert George - Composed By

7
Cafe Reflections
2:58
Notes:

Gilli Smyth - Composed By
Harry Williamson - Composed By
Robert Calvert - Composed By
Robert George - Composed By

8
The House Is Not The Same
4:15
Notes:

Conrad Henderson - Composed By
Gilli Smyth - Composed By
Harry Williamson - Composed By
Robert Calvert - Composed By
Robert George - Composed By
Henry Normal - Lyrics By

9
Space Tango
4:59
Notes:

Gilli Smyth - Composed By
Harry Williamson - Composed By
Robert Calvert - Composed By
Robert George - Composed By

10
The Beach Is Hot
4:34
Notes:

Gilli Smyth - Composed By
Harry Williamson - Composed By
Robert Calvert - Composed By
Robert George - Composed By

11
Balein
10:44
Notes:

Conrad Henderson - Composed By
Gilli Smyth - Composed By
Harry Williamson - Composed By
Robert Calvert - Composed By
Robert George - Composed By

12
Touch
3:18
Notes:

Gilli Smyth - Composed By
Harry Williamson - Composed By
Robert Calvert - Composed By
Robert George - Composed By

13
Tree I
4:43
Notes:

Gilli Smyth - Composed By
Harry Williamson - Composed By
Robert Calvert - Composed By
Robert George - Composed By

14
Tree II
4:31
Notes:

Gilli Smyth - Composed By
Harry Williamson - Composed By
Robert Calvert - Composed By

15
Wilful Housewife
3:51
Notes:

Gilli Smyth - Composed By
Harry Williamson - Composed By
Robert Calvert - Composed By

16
Crying
1:58
Notes:

Gilli Smyth - Composed By
Harry Williamson - Composed By
Robert Calvert - Composed By

17
Man / Woman
1:43
Notes:

Gilli Smyth - Composed By
Harry Williamson - Composed By
Robert Calvert - Composed By
Credits
Taliesin Allen - Artwork [Cover Art]
Conrad Henderson - Bass
Robert George - Drums, Percussion
Thomas Burns - Executive-producer
Harry Williamson - Keyboards, Guitar, Producer, Engineer
Colorado Art & Design - Layout
Gilli Smyth - Lyrics By
Robert Calvert - Saxophone, Concept By [Philosophy]
Gilli Smyth - Vocals
Notes
Recorded at Spring Studio, Melbourne, 1998-91, except * Recorded at the Melbourne Improvisors Association, Sept. 1991.
[but there is no * next to any track on the cover ! Actually, live recordings are tracks 15 to 17]
"Limited edition" written on the CD
This album has been reissued in 2004 by Voiceprint with the very same title and cover but totally different set-list; only 6 songs are in common on both issues.