Trespass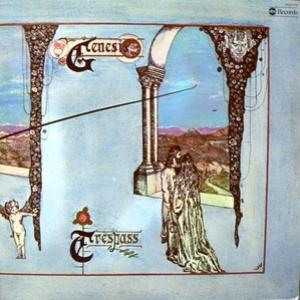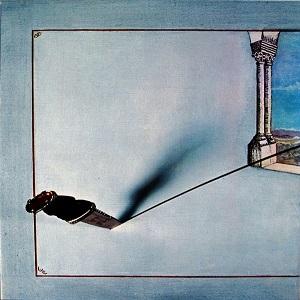 Tracklist
A1
Looking For Someone
7:00
A2
White Mountain
7:00
A3
Visions Of Angels
7:00
B1
Stagnation
8:45
B2
Dusk
4:15
B3
The Knife
8:55
Credits
Acoustic Guitar [12 String], Bass [Electric 12-string], Cello, Backing Vocals, Guitar [Nylon] - Mike Rutherford
Acoustic Guitar [12 String], Guitar [Lead Electric], Dulcimer, Backing Vocals - Anthony Phillips
Arranged By, Composed By - Genesis
Artwork By - Paul Whitehead
Drums, Percussion, Backing Vocals - John Mayhew
Engineer - Robin Geoffrey Cable
Lead Vocals, Flute, Accordion, Tambourine, Bass Drum - Peter Gabriel
Organ, Piano, Mellotron, Guitar, Backing Vocals - Tony Banks
Producer - John Anthony
Notes
ABCX-816 (1974): Reissue, black label, gatefold cover, lyrics on inside cover, artwork on opposite inside cover.
Recorded at Trident Studios, London.
Strawberry Bricks Entry:
Having graduated from Charterhouse, Genesis-vocalist Peter Gabriel, guitarists Mike Rutherford and Anthony Phillips and keyboardist Tony Banks-decided to become professional musicians; and in the summer of 1969, set off to do so. Replacing John Silver, drummer John Mayhew was found via a Melody Maker advert. They settled into old classmate (and road manager) Richard MacPhail's parents' cottage and began writing and rehearsing. It was in these idyllic surroundings and under the influence of King Crimson's debut album that the band's early compositions and live set congealed. Meanwhile, they began gigging, anywhere anyone would book them. It was during a brief residency at Ronnie Scott's (Upstairs) that Tony Stratton-Smith first went to hear them (on producer John Anthony's recommendation), and in a leap of faith, signed them to his Charisma label. They entered Trident Studios to record their second album in June. Trespass is gentle, immature and one hundred percent Genesis. Most everything the band would be known for can be found within, albeit in nascent form: the 12-string guitars, the lyricism and drama, and above all, the originality. You had to hand it to Stratton-Smith: Leaving bands to their own devices, he allowed each group to evolve into their own particular and sometimes peculiar style. Genesis was no exception. "Looking for Someone" is delicate, but full of dynamics. Other standouts include the elegant "Stagnation," with one of Banks's most sensitive organ solos, and their raucous and electric set-closer, "The Knife." Shortly after the recording, Anthony Phillips decided to leave the band. With the departure of one of their primary songwriters, Genesis' future was left uncertain.