A Trick Of The Tail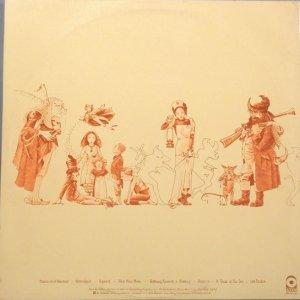 Tracklist
A1
Dance On A Volcano
5:54
A2
Entangled
6:26
A3
Squonk
6:29
A4
Mad Man Moon
7:35
B1
Robbery, Assault & Battery
6:16
B2
Ripples
8:07
B3
A Trick Of The Tail
4:34
B4
Los Endos
5:46
Credits
Drums, Percussion, Vocals, Backing Vocals – Phil Collins
Guitar – Steve Hackett
Guitar, Bass – Mike Rutherford
Piano, Synthesizer, Organ, Guitar, Backing Vocals – Tony Banks
Notes
Gatefold LP on yellow paper. Interior of gatefold contains lyrics and illustrations. Inner sleeve contains illustrations not present on later LP and CD releases.
Strawberry Bricks Entry:
Following Peter Gabriel's departure from Genesis, the band searched for a new vocalist (short-listed were Mick Jones, Steve Gould and Bernie Frost), before ultimately realizing that they already had their man right behind the drum seat: Phil Collins. Of course, his voice, not that dissimilar from Gabriel's, had been heard plenty by now. That settled, the band entered the studio with the task of proving whether they could survive without their former frontman. Ensconced at Trident, Genesis brought in David Hentschel as producer; he had previously worked with the band as an assistant engineer on Nursery Cryme; the results here were so successful that Hentschel would man the recording desk for the band for the remainder of the decade. And that's what strikes first: A Trick Of The Tail sounds fantastic. Whether on the bass pedal-driven rocker like "Dance on a Volcano," the nimble "Robbery, Assault and Battery," or gentler romantic numbers like the 12-string guitar-based "Entangled" and "Ripples," the band shines through the crystal-clear production. Tony Banks takes the largess of writing credits, yet not without contributions from the others. It's songs like "Mad Man Moon" and the title track that give hint to the future: More narrative than before, Banks writing offers a much more lyrical approach. "Squonk" remains the album's highlight, with its theme again reprised on the closing "Los Endos." Both are testaments to the instrumental might of the group, which, of course, is why the band survived Gabriel's departure. The album surpassed all previous others in sales, reaching No. 3 in the UK and No. 31 in the US. The album's not-so-subtle change in direction would influence a generation of neo-progressive rockers who appeared in the UK during the 1980s. Former Yes and King Crimson drummer Bill Bruford would score a prog rock "hat trick" when hired to augment Genesis on their US tour later in the year.