Trouble With Machines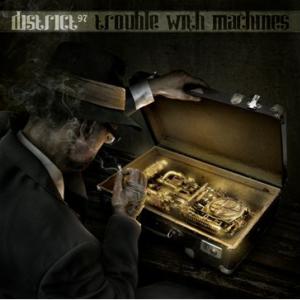 Tracklist
1
Back And Forth
8:43
2
Open Your Eyes
4:25
3
The Actual Color
5:48
4
The Perfect Young Man
10:01
5
Who Cares?
4:51
6
Read Your Mind
7:36
7
The Thief
13:43
Credits
Killustrations - Artwork
Patrick Mulcahy - Bass
Katinka Kleijn - Cello
Jonathan Schang - Drums
Jim Tashjian - Guitar
Rob Clearfield - Keyboards
Bob Katz - Mastered By
Rich Mouser - Mixed By
Chris Harden - Producer
John Wetton - Vocals
Leslie Hunt - Vocals
Notes
Initial 2000 copies include bonus DVD recorded at Rosfest 2011, titled "Live At Rites Of Spring".
Strawberry Bricks Entry:
In the two years or so since District 97 first sprang upon the progressive rock scene, they've quickly (and rightfully) earned themselves a spot as one of the genre's bright new stars. A great debut album, some high-profile endorsements, crowd-winning festival performances, chart-topping fan support, coupled with tour dates opening for prog legends Kansas and Roine Stolt's Agents of Mercy, all confirm the great work this group of Chicago suburbanites are capable of, none of whom have broken their third decade on this big earth. Yet I'm also reminded that these "kids" are the same age as Yes when that band recorded such masterpieces as The Yes Album or Close to the Edge. So here we are again... Trouble With Machines is the second album from D97. Again recorded in Chicago with Chris Harden of I.V. Lab Studios, the album gains a mix from Rich Mouser, a veteran of Spock's Beard and Neil Morse's recordings, and mastering by Bob Katz. The group composition "Back and Forth" is the perfect lead-off track. Stewing in the band's live set for quite sometime, here it presents their refined signature: chunky and quick tempo-ed, with choruses traversing 9/8 and 5/4, the band's trademark rapid-fire staccato is prog and it's metal, but it's neither or both; effortlessly performed, it's a big sharp sonic kick in the face, and a more than worthy successor to their previous fan-favorite "Termites". "Open Your Eyes", written by lead singer Leslie Hunt (and appearing previously on her debut solo album) showcases the band's pop sensibilities. Yes, she was an Idol, and yes, she certainly could be again. Honed from a mold (somehow, miraculously) of an Anita O'Day or June Christy, her talent is indeed worthy of the big screen; sultry, effortless, urbane, and a perfect fit for the band, she's another pure talent on record, and if you've been lucky enough, on stage. "The Actual Color", featuring music from drummer and band leader Jonathan Schang and lyrics from Ms. Hunt, is another soon-to-be D97 classic, a masterful composition (dig that great F#11th opening the bridge) with that oh-so Yes-inspired finale. Where's the video for this? "The Perfect Young Man", based on the life of murderer H. H. Holmes, features John Wetton (U.K./Asia/King Crimson) on guest vocals. A fitting pairing, he's another of the genre's legends that has caught the D97 bug. It's musically accessible and interesting, straddling the pop arena in epic construct, yet without forgoing the progressive – this is no small feat. Scratch a little deeper and you'll find not only another world-class composition from Schang, but a man that can more than write the words. Guitarist Jim Tashjian's "Who Cares?" is representative of the guitarist's writing (be sure to check out his Treehouse project), and a more than coherent and able rocker. "Read Your Mind" features a cameo from Katinka Kleijn, the cellist that graces their first album. It's another monster track, highlighting the extreme caliber of the band. Steeped in jazz composition, possessed with the ability to rock out, and actuated with technical prowess beyond a doubt, D97 tear through the track. "Sick" as they would say. Bassist Patrick Mulcahy's "The Thief" closes the album, the long track on a perfect 55 minute disc. With a nod (incredulously) to Cream's "White Room", the track's crisp guitar crunch, the bright attack of drums, all pinned and punctuated by a solid bass with Rob Clearfield's keyboards somewhere just under the guitar-hot mix, confirm that this isn't your father's progressive rock: it's something far more visceral and aggressive, something far more fresh and up-to-date. It's a testament to a group of young musicians - generations younger than their influences – that have reinvented and reinvigorated prog rock into something exciting, perhaps even something poised for greatness. The album is a solid progression for the band, sealing the promise of their debut with a firm affirmation of their unique and electrifying element of style. Their stars are shining brightly, their markers all pointing forward - where will they take us next?