U.K.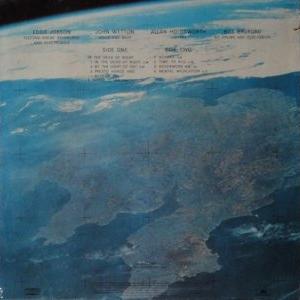 Tracklist
A1
In The Dead Of The Night
5:38
A2
By The Light Of Day
4:32
A3
Presto Vivace And Reprise
2:58
A4
Thirty Years
8:05
B1
Alaska
4:45
B2
Time To Kill
4:55
B3
Nevermore
8:09
B4
Mental Medication
6:12
Credits
Artwork By - Nicholas De Ville
Drums, Percussion - Bill Bruford
Engineer - Stephen W. Tayler
Engineer [Assistant] - Colin Green
Engineer [Assistant] - Reno Ruocco
Engineer [Assistant] - Steve Short
Guitar - Allan Holdsworth
Other [Management] - Alex Scott
Photography [Assistant] - Martin Durrant
Producer - UK
Violin [Electric], Keyboards, Electronics - Eddie Jobson
Vocals, Bass - John Wetton
Written-By - Allan Holdsworth
Written-By - Bill Bruford
Written-By - Eddie Jobson
Written-By - John Wetton
Notes
Produced by U.K. for E.G. Records Ltd.
Recorded and mixed at Trident Studios, Soho, London, December 1977 and January 1978.
Special thanks to Jim Wilmer.
Includes a printed inner sleeve.
Strawberry Bricks Entry:
Following the demise of King Crimson in 1974, the rhythm section—the formidable duo of Bill Bruford and John Wetton—took some journeyman work (separately, for Gong, Genesis, National Health, Roxy Music and Uriah Heep) and then tried to form a trio with Rick Wakeman; scuttled by management, the keyboardist opted to return to Yes. Then, in 1977, the pair decided to each pick a bandmate: Wetton brought in violin and keyboard man Eddie Jobson, while Bruford recruited guitarist Allan Holdsworth. Now given the pedigree of the members ("super" being the operative word), their debut album was eagerly anticipated. The three-part "In the Dead of Night" leads off—co-penned, like most of the other tracks on the album, by Jobson and Wetton. The latter certainly knows a decent hook, and how to make it an ideal complement to his distinctive tenor voice. Holdsworth adds his signature guitar playing, while the second section showcases Jobson on the electric violin. Bruford's drumming is crisp throughout, but the highly-rated Bruford/Wetton rhythm section is, unfortunately, mostly understated. However, Jobson's keyboards, and their unique sonic signature, provide a wonderful document of the technology he used (early polyphonic synthesizers). "Time to Kill" gives Jobson another turn on lead violin, but Holdsworth's single note accompaniment is equally enthralling. On "Nevermore" and "Mental Medication," Holdsworth has one hand in the composition and two on the acoustic guitar. Overall, the songs are good; the album is punctuated by a rock heaviness and, of course, lots of virtuoso soloing. But it's also replete with pristine production-and few outside the cognoscenti were going to get excited about this music. So despite the hype, the album failed to make any significant dent on the charts. The quartet did take to the road in the US, though; and judging by their set lists, had a larger repertoire ready to record. However, Bruford and Holdsworth were soon to make other plans.