Untitled (IV)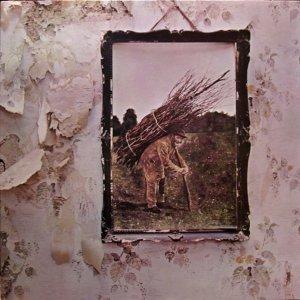 Tracklist
A1
Black Dog
4:55
Notes:

Written By - Jimmy Page-Robert Plant-John Paul Jones
Written-By - John Paul Jones

A2
Rock And Roll
3:40
Notes:

Written By - Jimmy Page-Robert Plant-John Paul Jones-John Bonham
Written-By - John Bonham
Written-By - John Paul Jones

A3
The Battle Of Evermore
5:38
Notes:

Performer - Sandy Denny
Written By - Jimmy Page-Robert Plant

A4
Stairway To Heaven
7:55
Notes:

Written By - Jimmy Page-Robert Plant

B1
Misty Mountain Hop
4:39
Notes:

Written By - Jimmy Page-Robert Plant-John Paul Jones
Written-By - John Paul Jones

B2
Four Sticks
4:49
Notes:

Written By - Jimmy Page-Robert Plant-John Paul Jones

B3
Going To California
3:36
Notes:

Written By - Jimmy Page-Robert Plant-John Paul Jones

B4
When The Levee Breaks
7:08
Notes:

Written By - Jimmy Page-Robert Plant-John Paul Jones-John Bonham
Written-By - John Bonham
Written-By - John Paul Jones
Written-By - Memphis Minnie
Credits
Artwork By [Inside Illustration 'the Hermit'] - Barrington Colby M O M
Design [Design Co-ordination] - Graphreaks
Executive Producer - Peter Grant
Mastered By - George Peckham
Mastered By - Porky
Producer - Jimmy Page
Written-By - Jimmy Page
Written-By - Robert Plant
Notes
Gatefold sleeve. Side A written as 'One', Side B written as 'Two'.
Recorded at Headley Grange, Hampshire; Island Studios, London; Sunset Sound, Los Angeles. Mfg by Atlantic Recording Corp.
Sandy Denny appears courtesy of Island Records.
℗ 1971. All selections published by Superhype Music, Inc., ASCAP.
This release was commonly referred to as 'Led Zeppelin IV', to follow in sequence with their previous three releases, but no actual title appears on the release.
This was later repressed in 1977 as release #SD 19129 with same cover art and tracks.
Strawberry Bricks Entry:
Led Zeppelin was already a household name by 1971, due in part to Jimmy Page's huge guitar riffs and singer Robert Plant's voice and good looks. Their first two albums were mostly hard rock rip-offs of blues standards-albeit excellent hard rock rip-offs of blues standards. Their third album, however, stretched out musically, particularly with British folk influences; that's further exploited here on "The Battle of Evermore," a vocal duet with Fairport Convention's Sandy Denny. But whether called IV, Untitled, ZoSo or The Runes Album, Led Zeppelin's fourth album will always be their best known, and for one reason: "Stairway to Heaven." Page's guitar work is classic, erupting into one of his most blistering solos; but Plant's lyrics, very much of the era, offer the hook that caught the world's attention. Of course, Led Zeppelin were still a heavy rocking blues band, and the hard riffing of "Black Dog" and "Rock and Roll" remain just as essential. Subsequent albums would introduce further musical diversity as the songwriting of Page matured, but none of their recordings would be better known, and no record collection at the time would have been complete without this album. As with all other Zeppelin albums after their first, it topped the UK charts; but this album would only reach No. 2 in the US.