Valentyne Suite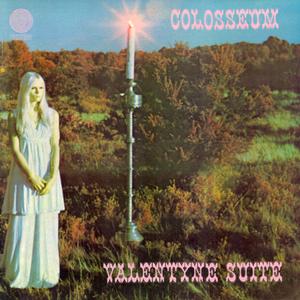 Tracklist
A1
The Kettle
A2
Elegy
A3
Butty's Blues
A4
The Machine Demands A Sacrifice
B1a
Theme One - January's Search
B1b
Theme Two - February's Valentyne
B1c
Theme Three - The Grass Is Always Greener...
Credits
Bass Guitar - Tony Reeves
Design [Inside Cover Design] - Linda Glover
Directed By, Arranged By [String Quartet] - Neil Ardley
Drums [Uncredited], Other [Machine By] - Jon Hiseman
Guitar - James Litherland
Liner Notes - Jon Hiseman
Music By - Colosseum
Organ, Vibraphone, Piano - Dave Greenslade
Photography By - Keef
Photography By - Peter Smith (10)
Producer - Gerry Bron
Producer - Tony Reeves
Saxophone - Dick Heckstall-Smith
Words By - Pete Brown
Notes
Released on a Vertigo ''swirl'' label, with the wording ''Vertigo'' below the spindle hole, in a fold-out cover.
The tracks B1a to B1c appear on the label styled as ''Part 1'' instead of ''Theme One''.