Watercolour Days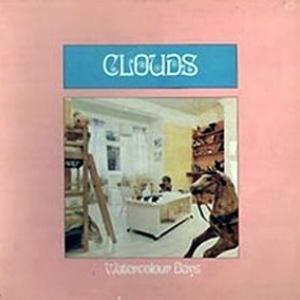 Tracklist
A1
Watercolour Days
5:28
A2
Cold Sweat
3:36
A3
Lighthouse
5:03
A4
Long Time
4:38
B1
Mind Of A Child
2:51
B2
I Know Better Than You
2:53
B3
Leavin'
3:25
B4
Get Off My Farm
3:27
B5
I Am The Melody
2:44
Credits
Ian Ellis - Bass Guitar, Harmonica [Mouth Organ], Vocals
Harry Hughes - Drums
John Burns - Engineer
David Palmer - Orchestrated By
Ruan O'Lochlainn - Photography By, Design [Cover]
Billy Ritchie - Piano, Organ, Harpsichord, Vocals
John Burns - Producer
Terry Ellis - Producer
Clouds - Written-By
Notes
Released in a gatefold cover.
The U.S. release of this album already released in the U.K. on Chrysalis ILPS 9151.
Strawberry Bricks Entry:
Hailing from Edinburgh, Scotland, Clouds' history goes back to the early 1960s and a band called The Premiers. Among its members were bassist Ian Ellis and drummer Harry Hughes, and later, keyboardist Billy Ritchie. Relocating to London, the band, now a trio called 1-2-3, they landed a residency at the Marquee Club in 1967. This eventually attracted the attention of NEMS and Brian Epstein, and along with a slew of fledgling keyboard players to witness Ritchie's command of the organ. Following Epstein's untimely death, the band changed their name to Clouds and signed with Terry Ellis and Chrysalis Records. Their debut recording, The Clouds Scrapbook, was released in 1969. Like all of their recordings, it featured orchestral arrangements from future Jethro Tull member David Palmer and production from Andy Johns. Firmly rooted in the 60s, the album is a pastiche of short songs, ranging from music hall to pop to schmaltz; so whatever their live legacy may have been, it didn't translate to vinyl. A second album, Up Above Our Heads, saw release on Deram in 1970, but in the US only-an empty attempt to break into the North American market. Fortunately, the band's third album-Watercolour Days, released in 1971-was head and shoulders above the rest. The opening title track is a compositional triumph, combining brilliant songwriting and musical arrangement. "Cold Sweat" grinds deeper, approaching the heavy organ of Atomic Rooster or Deep Purple; while the sultry swirling organ of "Lighthouse" mixes perfectly with the dual vocals of Ritchie and Ellis. The second side's "Mind of a Child" and "I am the Melody" remain rooted in 60s pop, yet the album's uniform texture provides a cohesiveness. Despite an international touring schedule throughout their career and capable records, Clouds never found the success they hoped for, and the band called it quits in late 1971. While the prog genre was just coming into full bloom, Clouds would drift from memory and remain a relic of a decade past.