Waters Of Change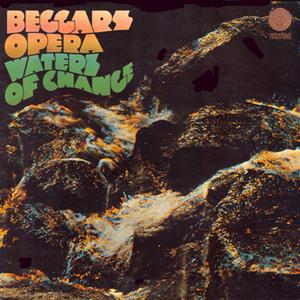 Tracklist
A1
Time Machine
Notes:

Written-By - Alan Park
Written-By - Martin Griffiths
Written-By - Ricky Gardiner

A2
Lament
Notes:

Written-By - Alan Park
Written-By - Raymond Wilson

A3
I've No Idea
Notes:

Written-By - Alan Park
Written-By - Martin Griffiths

A4
Nimbus
Notes:

Written-By - Gordon Sellar
Written-By - Martin Griffiths
Written-By - Ricky Gardiner

B1
Festival
Notes:

Written-By - Alan Park
Written-By - Marshall Erskine
Written-By - Martin Griffiths

B2
Silver Peacock (Intro)
Notes:

Written-By - Alan Park
Written-By - Martin Griffiths
Written-By - Virginia Scott

B3
Silver Peacock
Notes:

Written-By - Alan Park
Written-By - Martin Griffiths
Written-By - Virginia Scott

B4
Impromptu
Notes:

Written-By - Ricky Gardiner
Written-By - Virginia Scott

B5
The Fox
Notes:

Written-By - Martin Griffiths
Written-By - Ricky Gardiner
Written-By - Virginia Scott
Credits
Bass Guitar, Flute - Marshall Erskine
Bass, Acoustic Guitar, Vocals - Gordon Sellar
Engineer - Barry Ainsworth
Engineer - Martin Birch
Lead Guitar, Vocals, Acoustic Guitar - Ricky Gardiner
Lead Vocals, Cowbell - Martin Griffiths
Mellotron, Vocals - Virginia Scott
Organ, Piano - Alan Park
Percussion - Raymond Wilson
Producer - Bill Martin & Phil Coulter
Notes
Released on a Vertigo ''swirl'' label in a fold-out cover.
Strawberry Bricks Entry:
Perhaps the most easily recognizable "trademark of quality" from the era, Vertigo Records delivered a wide range of music during the late 60s and early 70s. A few of their acts, like Black Sabbath and Rod Stewart, went on to superstardom; while most others would have to be content in releasing what would become some of the most collectible records of the era. Beggars Opera was a band of the latter set. Formed in Glasgow in 1969, the band consisted of vocalist Martin Griffiths, keyboardist Alan Park, drummer Raymond Wilson and guitarist Ricky Gardiner. Their first album, Act One, was released in early 1971, and amounted to a predictably good mixture of underground sounds with classical overtones. Adding Gordon Sellar on bass and Gardiner's wife Virginia Scott on Mellotron, the band released Waters Of Change later in the year. Scott had previously co-written some numbers for the band, and her contribution here is unique: She's one of the few female musicians in the timeline. Underneath a grinding organ, the classic "Time Machine" unfolds with washes of Mellotron alongside its tight groove. The bouncy "I've No Idea" follows with similar progressive verisimilitude; it's also a showcase of Park's considerable talent. The second side's "Festival" presents a typically stately melody for the band, and one that augments the formality of Griffith's voice. "Silver Peacock" flourishes in the band's arrangement, while "The Fox" closes with more of the band's quasi-classical music and one electric finale. The album was best received in Germany, where the band would hence concentrate their efforts. Another album, Pathfinder, followed in 1972; but after that, the band suffered some changes, including the loss of both Griffiths and musical direction (check out the languishing cover of "MacArthur Park"). Following one final album for Vertigo, they effectively broke up. In 1974, Gardiner, with Scott and ex-Savoy Brown vocalist Pete Scott, recorded two albums as Beggars Opera for a German label. He found more success as a guitarist on David Bowie's Low album, which eventually led him to Iggy Pop's band. Beggars Opera would record a final album in 1981.